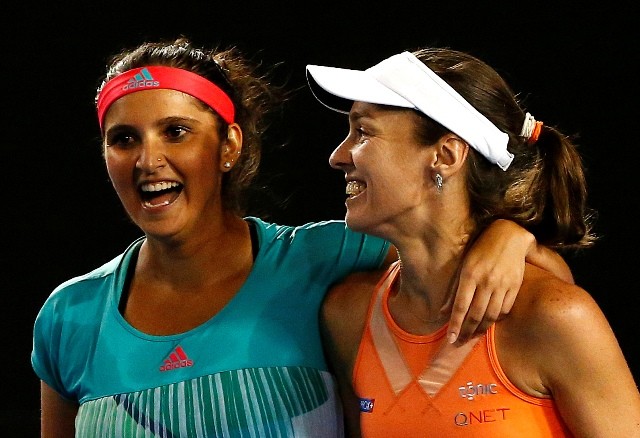 Sania Mirza and Martina Hingis are making jaws drop across the world for their current form on-court. After bossing the Wimbledon 2015 and US Open 2015, Sania and Martina, fondly known as 'SanTina', notched up their third-straight Grand Slam -- the Australian Open 2016 -- on Friday.
The Indo-Swiss terrific duo also won their too-good-to-be-true 36th consecutive Women's Doubles match. In the Australian Open 2016 final, Sania and Hingis defeated the Czech duo Andrea Hlavackova and Lucie Hradecka 7-6(1) 6-3 at the Rod Laver Arena.
Hingis' best years in her Women's Doubles career were 1996, 1997 and 1998. She has turned out to be a lucky charm for Sania, ever since their partnership started last year. The pair entered the Indian Wells 2015 as the top seeds and went on to win the title in their debut. The rest is history.
Swiss legend Hingis formed a formidable partnership with former Czech tennis player Jana Novotna in the Women's Doubles in 1998 and the recent success she is basking in with Sania is almost on par with her success on court almost two decades ago. However, it may also be time for us to say that Hingis' partnership with Sania may have been more successful than with Novotna, or even Anna Kournikova.
It was a treat for the paparazzi when the two beauties, Hingis and Kournikova, who reigned the court, paired up to win the Australian Open on two occasions, in 1999 and in 2002.
Nevertheless, Martina Hingis is still creating waves across the Tennis circuit, after more than a decade. And this time, Sania Mirza is turning out to be one of her greatest women's doubles partners in the sport. "Yeah, it's amazing. Our fairytale continues," Hingis said after her Australian Open 2016 win with Sania.
"It's amazing since winning Wimbledon. After that we only lost two more matches. It keeps going. Some games were going on, back and forth [in today's final]. She had a down, I had a down. But we're always there for each other. We really trust each other's skills when it really counts. I think that was really the difference today.
"I think we still have room for improvement. That's what we did. Our relationship also got stronger. But I think [Sania] definitely sets me up. She's one of the hardest-hitting players out there. Like her groundstrokes, her return is really amazing, and her forehand is, if not the best in the world - okay, maybe Serena can hit it as hard," the 35-year-old said.
"But, yeah, there's not that many people who can match her in the forehand rallies and me on the backhand side and at the net. I mean, whoever watched this match today, that's what we were doing. That's what we try to do every match," the Swiss veteran explained.