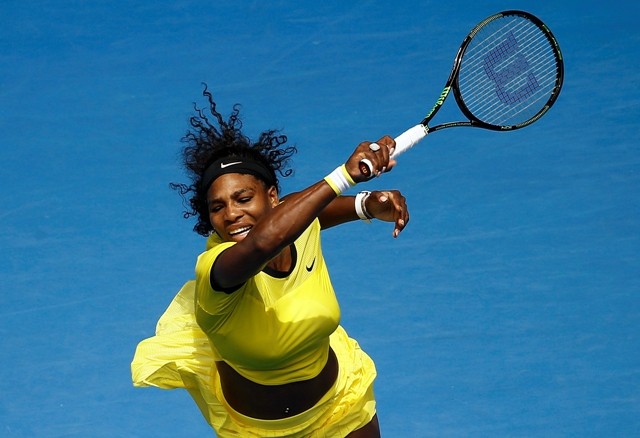 Roger Federer and Serena Williams -- two legends of the game, displaying their acumen time-and-time again on court, and they have never really stopped. Both tennis superstars are 34 now, but they are still performing like they did a decade back.
Both notched up respective wins in the Australian Open 2016 on Tuesday and have made their way into the semi-finals of the competition. While Federer got past Tomas Berdych in the Men's Singles Quarter Finals game with a straight sets victory, Serena made it look as cool as a cucumber as she gave Maria Sharapova no chance in the Women's Singles Quarter Finals game.
Federer won over Berdych with a 7-6 (7-4) 6-2 6-4 score, while Serena outclassed Russian glam-girl Sharapova with a 6-4 6-1 score.
While Federer will face Novak Djokovic in the Men's Singles Semi Finals, Serena will take on Polish star Aga Radwanska in the next round of Women's Singles.
Djokovic won 6-3 6-2 6-4 against Kei Nishkori on Tuesday, while Radwanska defeated Carla Suarez Navarro 6-1 6-3.
Swiss superstar Federer was billed as the favourite going into his Quarter Finals match against Berdych, even though the lanky Czech tennis player had registered wins over Federer in both of their prevous meetings at the Grand Slams.
"I'm very, very happy," Federer said after the match. "Tomas has caused me a lot of problems over the years, but it's been a pleasure playing against him, he's the type of player who makes you better.
"I thought I played a good match. I was aggressive, had variety in there. It was good conditions to play in."
Serena, meanwhile, got past her arch-rival Sharapova for the record 18th time on court, and she made it look as comfortable as anything on a bright and humid day at the Melbourne Park. Looking ahead to her seventh Australian Open title, the American is surely giving a glimpse of the "fire and intensity" that has always been synonymous with her.
"Maria is a super-intense player. She is an intense and focused player. She was world number one and has won so many Grand Slams for a reason," Serena said after the match. "Playing someone like that you have to play with fire and intensity. I've been playing all week aggressive but I didn't start out that way."