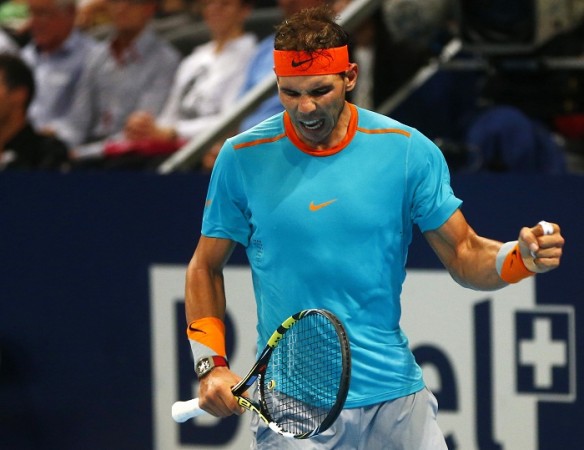 The pessimistic side of Rafael Nadal was revealed ahead of the first Grand Slam of the year, Australian Open, as he does not consider himself one of the favourites for the competition, despite being seeded third in the competition.
It is primarily his injuries, which has brought his confidence down to such levels.
The winner of multiple Grand Slams has not had a great start to the year as well, as he was knocked out in the first round of the Qatar Open by German Michael Berrer.
To make the situation worse for the Spaniard, he has been handed a tricky first round match with Russian Mikhail Youzhny, which is scheduled for tomorrow.
With the Russian being one of the most experienced players in the ATP circuit with 15 years of experience, he is not going to make it easy for the Spaniard, who is coming back from injury as well.
"No, I don't consider myself one of the favourites here," said Rafael Nadal. "Last year, yes. This year is a different story. (I) would be lying if I say I feel that I am ready to win today. I don't feel myself ready to win the tournament here today.
"If I am here in a press conference in one week, maybe I will say another thing because I will have the feeling that I will play a few matches, and if I'm able to win that couple of matches, then probably I will have little bit more rhythm, I will have more confidence.
"But in theory, playing four, five matches in seven months, you cannot be a favourite of a tournament that is not clay, it's on hard (courts),'' he told reporters at Melbourne Park.
The former world number one has been plagued by injuries of late, but no doubt, gives it all in matches. Even during the finals of the Australian Open last season, he could have easily given up, but he played with a back injury during the final, though he eventually lost in four sets to the Swiss player Stanislas Wawrinka.
The player is not yet confident about his fitness, primarily his back injury, which has given a lot of problems in the recent past as well.
"I am confident about my knees because (they) are working very well," he said. "But my back, I don't have enough time, having good feelings, to say I am 100 per cent perfect, no?
"I need to take care about this for the moment. But hopefully it will be fine."
Irrespective of what the Spaniard might have said, he is one of the most respected players in the ATP circuit.
After having won an impressive 14 Grand Slams in his career, he has earned that respect from the tennis fraternity, hence players playing against him would still fear him, for he can pull off victories even when is not fully fit.
Where to Watch Live
Nadal's opening round match against the veteran Russian is scheduled for a 2 pm local time (8.30 am IST) start with live coverage in India on Sony Six and Sony Six HD. Catch all the action via live streaming online on Livsports.com.