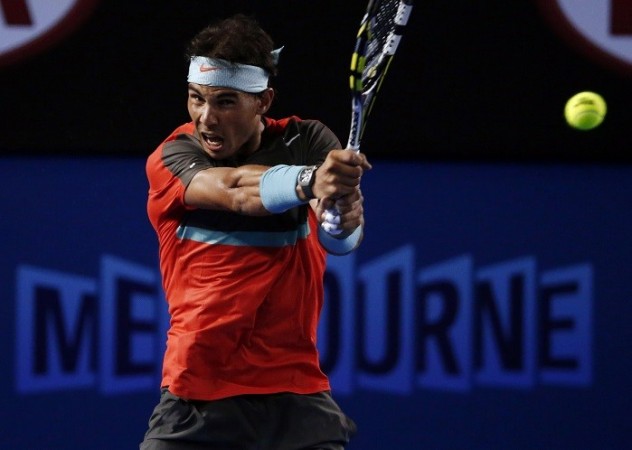 Rafael Nadal vs Gael Monfils and Andy Murray v Feliciano Lopez will be the marquee matchups when the Australian Open comes calling on Day 6 in Melbourne.
Where to Watch Live
The sixth day is scheduled for an 11 am local time (5.30 am IST) start with live coverage on Star Sports 4 and Star Sports HD2 in India. The matches can also be live streamed online HERE. Catch the action in Africa HERE, while viewers in the US can watch the matches via live streaming HERE. UK viewers can live stream the matches HERE and HERE.
Nadal has so far negotiated his two opponents, both Australians, and the heat with relative ease, but will be put to a sterner test when he comes up against the unpredictable, but outrageously athletic and talented Gael Monfils on Saturday.
The Spaniard, however, was quite happy to have negotiated teenager Thanasi Kokkinakis in straight sets, after being handed an early victory in the first round following the retirement of Bernard Tomic.
"I think I played a great first set, not many mistakes, serving well, finishing the set playing aggressive with my forehand," Nadal said after the 6-2, 6-4, 6-2 victory. "I think I played really well first set. Then the second set I didn't play as good as I played the first. I stopped a little bit. I played with less intensity. Playing with less intensity equals more mistakes, and that's what happened.
"It was important that the serve was there during the whole match. And, in my opinion, the third set I finished the match playing well again, good forehands down the line. That's given me a lot last year, so it is the way to keep improving.
"And it is true that here that shot is a little bit more difficult because the court goes very quick when the ball bounces. When the ball bounces on the floor, it goes very, very quick, so it is very difficult to adjust with the balls.
"But I think I played at a very good level. The serve, that is a very important thing here, was working well."
Andy Murray will face Lopez, an opponent he is familiar with, after taking out Vincent Millot, winning the final 23 points. "I don't think I've lost to him," Murray said of his third round opponent. "I don't know how many times I won. But I had a tough match with him at the US Open on the hard courts a few years ago where he played really well.
"I think it was 7-6 in the fourth set maybe, something like that. Very, very hot day. And, yeah, I mean, he's got a great serve. He obviously comes to the net a bit. Different game style to all of the guys nowadays pretty much.
"So that will, again, be another good test for me and naturally get tougher."
Roger Federer negotiated Blaz Kavcic rather comfortably in the second round, which has earned the Swiss great a match against Russian Teymuraz Gabashvili. With Murray and after that Nadal possibly lying in wait, Federer will again be keen to finish off his opponent as soon as possible in the third round.
"I'm moving well," Federer said. "As I move along in the draw I hope it becomes smoother and coordination gets better and the confidence rises. In terms of fitness I feel great. I feel very healthy. That clearly is a great sign, because I can really focus on how I want to play tennis, where I want to move, how I want to play the ball, not, can I get to it?
"But I will get there, and then how will I hit the shot? So it's a big difference from six months ago."
In the women's draw, defending champions Victoria Azarenka faces little-known Austria Yvonne Meusburger in the first match of the night session at the Rod Laver Arena, while Maria Sharapova, after that exhausting second round victory, will take on Frenchwoman and No. 25 seed Alize Cornet in the opening match of the day on centre court.