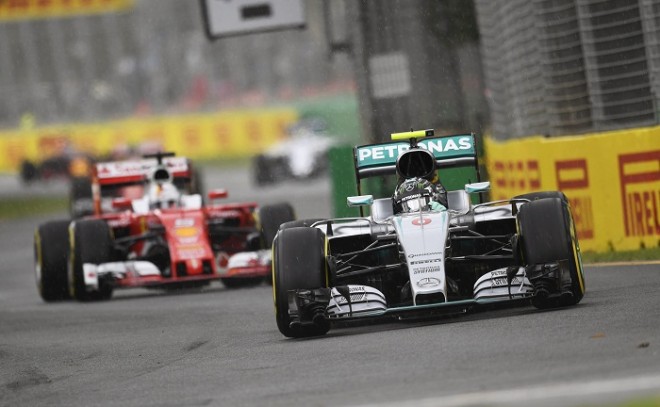 The first race of the F1 2016 season — the Australian Grand Prix — witnessed Mercedes' Nico Rosberg win Sunday at Albert Park while teammate Lewis Hamilton finished second in an exciting race. Ferrari's Sebatstian Vettel finished third.
The Australian Grand Prix was entertaining right from the start, with Ferrari drivers Vettel and Kimi Raikkonen getting past Mercedes' Lewis Hamilton and Nico Rosberg to take an early lead in the first corner of the first lap.
After that, it was about Vettel trying to hold on to his lead despite challenges from other drivers, but his teammate, Raikkonen, had to retire from the race in the 22nd lap. Rosberg was pressuring and also pushing Vettel, and was gradually inching closer to Vettel in the 34th lap.
But Vettel took a pit stop, which allowed Rosberg to lead in the next lap. When Vettel joined the field, he was at fourth place, behind Rosberg, Daniel Ricciardo and Hamilton. The German was not going to concede lead this time, and drove at a fantastic speed throughout the race.
However, Hamilton was on a battle of his own against local favourite Riccardio. Riccardio going to the pit for new tires allowed Vettel to come in at the third position. With five laps to go, Rosberg was the favourite to win the title, but Vettel was giving it all to secure a second place as he was all over Hamilton in the 52nd lap, but Hamilton did not give an inch to Vettel, who had to be content with a third-place finish.
Home favourite Ricciardo finished fourth while F1 debutant team Haas should be pleased with Romain Grosjean, who clinched fifth place. Williams should not be disappointed with Felipe Massa and Valtteri Bottas finishing fifth and eight, respectively. Nico Hulkenberg also opened Force India's account with a seventh-place finish.
However, the first race of the season was also highlighted by an unfortunate accident, where Fernando Alonso must consider himself lucky to have escaped unscathed after his car crashed in lap 17 when he tried to get past a Haas car.
The first Formula One race of the season has definitely showcased it is not going to be an easy outing for Mercdes, with Ferrari, and their improved car, set to challange the defending champions.
Complete Australian Grand Prix results
1. Nico Rosberg - Mercedes-Mercedes 1h 48m 15.565s (57 laps)
2. Lewis Hamilton - Mercedes-Mercedes +8.0s
3. Sebastian Vettel - Ferrari-Ferrari +9.6s
4. Daniel Ricciardo - Red Bull-TAG Heuer +24.3s
5. Felipe Massa - Williams-Mercedes +58.9s
6. Romain Grosjean - Haas-Ferrari +72.0s
7. Nico Hulkenberg - Force India-Mercedes +74.1s
8. Valtteri Bottas - Williams-Mercedes +75.1s
9. Carlos Sainz Jr - Toro Rosso-Ferrari +75.6s
10. Max Verstappen - Toro Rosso-Ferrari+76.8s
11. Jolyon Palmer - Renault-Renault +83.3s
12. Kevin Magnussen - Renault-Renault +85.6s
13. Sergio Perez - Force India-Mercedes +91.6s
14. Jenson Button - McLaren-Honda + one lap
15. Felipe Nasr - Sauber-Ferrari + one lap
16. Pascal Wehrlein - MRT-Mercedes + one lap
Retired list
Marcus Ericsson
Kimi Raikkonen
Rio Haryanto
Esteban Gutierrez
Fernando Alonso
Daniil Kvyat