Australia has said that it has spotted two objects seen on satellite images that could potentially be linked to the missing Malaysia Airlines flight MH370.
Search and Rescue ships and planes from Australia, New Zealand and the US were heading towards the area in the Indian Ocean 2,500km (1,550 miles) south-west of Pert to search for the objects which they suspect are the debris from the plane.
Australia was among the 26 countries currently looking for the wide-body jet MH370 which was flying from Kuala Lumpur to Beijing on 8 March when it lost contact with air traffic controllers. A total of 239 people were on board.
Australian Prime Minister Tony Abbot telephoned Malaysian Prime minister Datuk Seri Najib Razak at around 10 am (local time) Thursday, informing about the possible lead in the southern Indian Ocean, the New Straits Times has reported.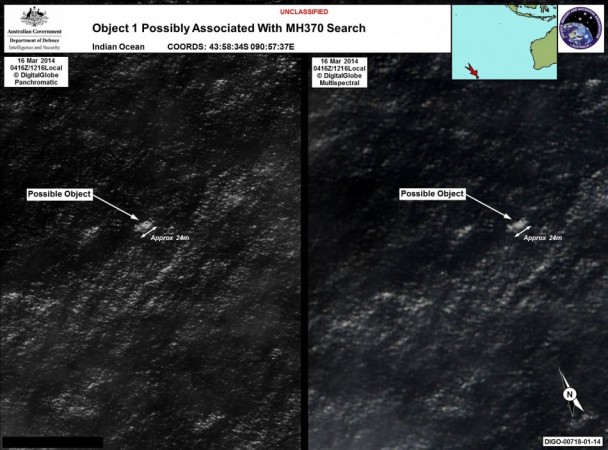 Acting Transport Minister Hishammudin Hussein has said in a statement that Abbot had informed Najib that "two possible objects related to the search for MH370 had been identified in the southern Indian Ocean."
Abbott told Parliament in Canberra earlier that satellite imagery had shown two objects possibly related to the missing jet.
"New and credible information has come to light in relation to the search for Malaysia Airlines Flight MH370 in the Southern Indian Ocean," Australian Prime Minister Tony Abbott said in the televised session.
"The Australian Maritime Safety Authority (AMSA) has received information based on satellite imagery of objects possibly related to the search."
John Young, general manager of the emergency response division of AMSA told reporters earlier that an Australian air force plane was already at the scene and more aircrafts were on the way. A merchant ship diverted for the search was due to arrive at the scene in a few hours.
"They are objects of a reasonable size and probably awash with water moving up and down over the surface," Reuters quoted Young as saying.
"It's probably the best lead we have right now, but we have to get there, find them, see them, assess them, to know whether it's really meaningful or not," he added.
Australia was asked by Malaysia to take responsibility for search efforts for the "southern corridor" search.
Investigators had identified two corridors of territory - two arches - one to the north and one to the south, that spanned the possible positions of the plane which is now reported to have travelled for about eight hours after take-off.
After the plane lost contact with controllers over the South China Sea, Malaysian officials say that it then turned west and its last position was over the Malacca Straits.
Meanwhile, multiple unidentified US officials said on Wednesday that the FBI was helping Malaysia to analyze data from a flight simulator retrieved from the pilot's home.