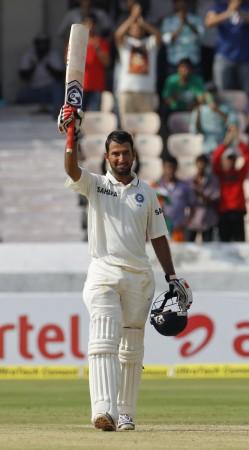 India was expected to win the second Test match on Tuesday itself, but nobody would expect Australia to give up so soon and face defeat by adding only 57 runs to their overnight total of 74 for two.
India defeated Australia by an innings and 135 runs within three and half days in the second Test match at Rajiv Gandhi International Stadium, Hyderabad on Tuesday.
Resuming batting from the previous day's score of 74 for two, Australiam batsmen fell like nine pins, except for Ed Cowan who scored 44 runs. Shane Watson didn't add even a run to his previous day's score of nine and other top batsmen failed to contribute, ending their second innings with just 131 runs in 67 overs.
Off-spinner Ravichandran Ashwin, who took the wickets of David Warner and Phillip Hughes on Monday, took three more wickets on Tuesday, ending his second innings spell with five for 63. Ravindra Jadeja took three for 33.
India put up 503 runs in reply to Australia's first innings score of 237 for 9 (declared) helped by Michael Clarke's score of 91 runs and Matthew Wade's 62.
Cheteshwar Pujara's score of 204 runs, his second Test double century, and Murali Vijay's 167 helped the host take a comfortable 266-run lead on the third day. Their 370-run partnership put India in the driver's seat despite poor contribution from other batsmen.
Australia lost two wickets for 74 runs at the close of play on the third day, needing 192 runs to avoid an innings defeat. They failed to show any resistance on the fourth day, giving away eight wickets for just 57 runs.
Pujara, who scored double century in the first innings, was awarded man-of-the-match.
India lead 2-0 in the four-match Test series. Dhoni's men beat Australia by eight wickets in the first test at the M.A. Chidambaram Stadium, Chennai.