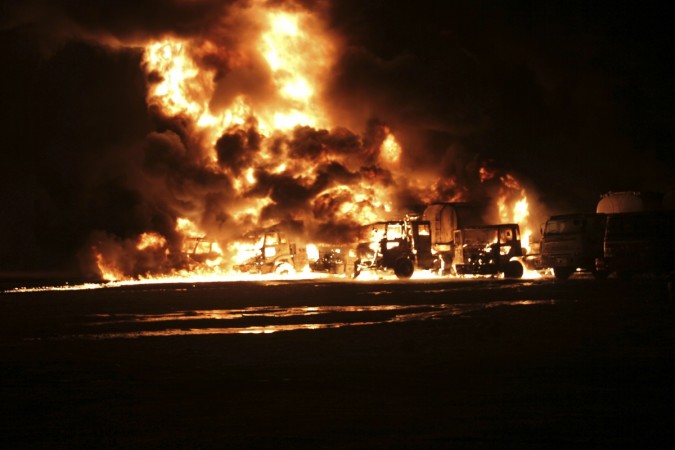 A raging bushfire in southern Australia has destroyed scores of houses and properties, and is being touted as the worst wildfire since the 1983 inferno that killed more than 70 people.
While no human lives have been lost in the fire, 40 cats and dogs were killed in a kennel in Adelaide after the fire ripped through the property, even destroying the owner's house.
The Tea Tree Gully Boarding Kennels and Cattery shared the news on its Facebook page, and the post was instantly shared by thousands of people, receiving more than 5,000 shares and 4,000 comments.
"We did manage to save in excess of 40 dogs. Devastatingly we lost the cattery and none of the cats survived," the kennel owner said.
"We love all the animals we have in our care and are devastated by this. Our deepest sympathy to all who have suffered a loss. We feel so awful about the loss of people's beloved pets," he added.
The comments sections carried angry messages at the loss of animal lives, and some sympathised with the owners.
"At first sign of this fire, the animal should have been loaded and moved out. Thousands would have happily stored the entire lot at their house even if it was a false alarm. It would have only taken one call for help on your page, and people would have come running (sic)," one comment read.
"My heart breaks for the cats & dogs who were trapped in their cages unable to escape.. the sheer terror & panic they went through is unimaginable (sic)," a person commented.
There were also messages of support for the owners who said they had tried to save as many animals they possibly could.
"The fact they managed to save over 40 dogs is beyond admirable and they should be commended for it," one person said, while another comment read – "Anyone blaming the owners need to realise the owners would have done everything to save these animals! "
The kennel had posted a day earlier that its pets were kept in air-conditioned rooms as the fire was nearing.
'South Australia is Facing Worst Fire Since 1983 Ash Wednesday Blaze'
Thousands fled their homes as the bushfire raged in south Australia, with authorities calling it the worst such blaze since the 1983 fire that killed scores.
"Residents in the Adelaide Hills are being confronted by a fire that of the likes that hasn't been seen since the 1983 bushfires of Ash Wednesday," South Australian Country Fire Service's Chief Officer Greg Nettleton, 9news.com.au reported.
South Australia's premier Jay Weatherill urged those threatened by the wild fire to leave the area immediately on Saturday.
Several fire-fighters have also been treated for smoke-inhalation.
Thoughts are with those near the South Australia fires: http://t.co/QSIJMJPajJ @newscomauHQ #bushfires #SAFires pic.twitter.com/zw3QKQnR0S

— Banksy v2.0.15 (@newsbanks) January 3, 2015
Gallery: Bushfires rage across two Australian states. http://t.co/3xzR5s3cF6 Picture: Ben Goode #SAFires #VicFires pic.twitter.com/nA24f7ojrm — The Australian (@australian) January 3, 2015
Dozens of homes are feared lost and lives are under threat from #AdelaideHills fire #SAFires http://t.co/qIe7gDKLp5 pic.twitter.com/gOORIV5BMg

— ABC News (@abcnews) January 3, 2015