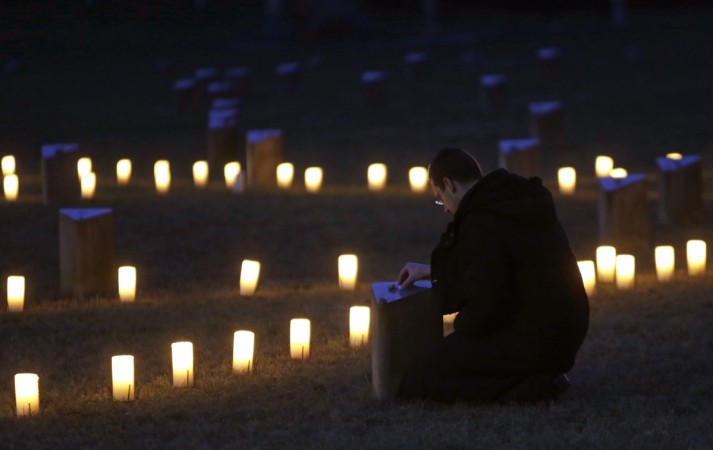 Auschwitz survivor Eva Slonim, who was tortured by Nazi men when she was just 12 years old, took her revenge by having a big family and filling her life with love.
Thousands of people across Europe gathered to mark the 70th anniversary of Auschwitz's liberation. Recalling seven decades old events, Slonim said: "We comprehended that the time in Auschwitz was ending, but we didn't imagine liberation like that. Liberation for us meant we could meet our parents, then this didn't happen. Nobody came to pick us up, we didn't see anybody we knew," ABC reports.
The Soviets freed Auschwitz prisoners on 27 January, 1945, but the people were not allowed to reunite with their families. They were kept in detention with SS officers beforehand.
The numbered tattoo on Slonim's body is a constant reminder of the time she lost her childhood at the hands of her torturers and the mental trauma she went through at that age will last a lifetime. She still fears Nazi boots and always wakes up at 4 in the morning, the time when she was woken up for interrogation during detention.
"I have this madness about locking the bedroom door every night, and I have a light under the door so I can see if there are any boots there. At 4 o'clock I wake up because that's when I was woken for interrogation, and I still wake up. I seem normal, during the day, but I'm always reminded of the Holocaust – it's with me, it's ingrained," Slonim said.
She kept the story to herself until a few years ago when she started sharing the details with the public. Slonim stays in Melbourne at present and spoke at a service for the 70th commemoration of Auschwitz's liberation in Melbourne's Holocaust Centre on Tuesday night.
"I promised those who, with their last breath when they were dying, said 'tell the world so this will never happen again.'" She shared her Holocaust experience in her memoir, "Gazing at the Stars", and also with those visiting the Melbourne Holocaust Centre.
Eva Slonim and her twin sister Martha underwent brutal torture by the SS officers, who wanted them to admit that they were Jewish. The twin siblings were instructed by their parents not to admit to their identity as they might face grievous consequences.
The second advice from her father that kept her going was: "'look every night at the stars and so will I. Talk to them, complain to them'. So I looked to them in the concentration camp and communicated with my father."
Nazi physician Dr Mengele wanted the twins for an experiment and therefore, their lives were spared. "He maintained twins had a special blood that non-twins didn't have and if you infused a non-twin with twins' blood, they would give birth to twins."
This experiment resulted in the death of many twin pairs. But, the twins remained strong because they made sure they remained together. "If you had a sister or an aunty or mother, someone close to you – two people were more likely to survive than one, because you support each other," she said.
Even after being reunited with her parents, she did not speak about what she had to go through at the Nazi camps. Her consolation is that she has kept a promise to herself that she made after the Holocaust – to have a big family and to fill her life with love. That's my revenge. I wouldn't touch anybody, I wouldn't hurt anybody but I would reproduce what was so terribly lost," she said.