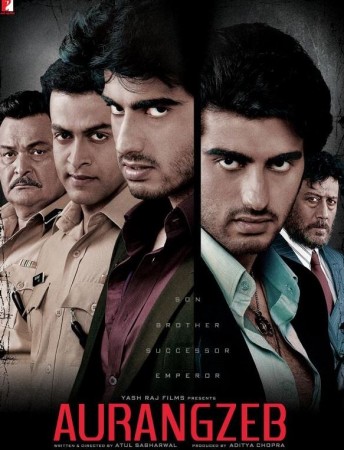 Crime and action thriller "Aurangzeb", directed by debutant Atul Sabharwal, opened to an average occupancy at theatres on Friday. The film features Arjun Kapoor in double roles, Prithviraj Sukumaran, Rishi Kapoor, Sashaa Agha, Swara Bhaskar and Jackie Shroff.
The drama thriller received mixed reviews from critics, but Arjun Kapoor's performance was much appreciated from critics as well as moviegoers.
Despite the pre-release promotions and much hype, the hardcore action drama failed to make a mark at the box office on the opening day. Produced by Yash Raj Films,"Aurangzeb" is rumoured to be a remake of 1978 blockbuster "Trishul".
Check what critics have said about the film:
Mohar Basu of Koimoi.com said: Aurangzeb is a film that lacks vision and deliberately botches up a good script. The film for the entire first part managed to grip on the thrill factor well. By the climax, it converts into a convoluted and repulsive mess. Arjun Kapoor, Rishi Kapoor and Jackie Shroff thankfully manage to infuse in well framed performances making it a manageable watch.
"Arjun Kapoor is a double treat in his double role. Going by the knotty character he plays, it is commendable that he manages to deliver without faltering. Showing commendable promise in acting may be he doesn't give a memorabilia, but he is one actor to look out for in the tinsel town.
"Atul Sabharwal evokes seething anger for not doing justice to the story he had. With a delicious premise like that, he barely manages to serve us anything beyond mediocrity. Trying to deal with too many subjects and points, he loses himself in the web of interpersonal relationships of his characters and the nail biting plot that he had.
"Aurangzeb could have been so much better, perhaps even a classic. It is Atul Sabharwal's faulty treatment that leaves it shaky. There is immense passion and thrill in the story, which its actors remit strongly. I am going with an average 2.5/5 for the film. The thrill ends up flaccid killing all that could have been sensational! Optimistically, I expect something more stirring and less misplaced from the team sometime soon!"
Sneha May Francis of Emirate 24/7 said: "Packed with some stellar performances, the thrilling drama falters and fumbles and falls short of turning into a classic.
"Imagine being armed with some of the finest performers and a killer story that weaves them all in delightfully, yet dishing out something that's shockingly mediocre. Well, debutant director Atul Sabharwal does just that. Even though his 'Aurangzeb' flaunts its share of strong performances and a storyline that shocks and thrills along the way, yet it falters and fumbles in so many ways, leaving us shockingly disappointed.
"For those who've been deeply impacted by Lee Tamahori's 'The Devil's Double', where the stunning Dominic Cooper brilliantly depicts two varied characters, who share only physical resemblance, Arjun's act is far from memorable.
"Aurangzeb' is unforgivably half-baked and falls short of being a classic. What it does pack is some stellar performances and a promise of better movies in the future."
Nabanita of OneIndia said: "The film has been in the news, ever since the first theatrical went online and especially, due to Arjun Kapoor's double duty roles in it. Aurangzeb is interestingly set in land mafia or the upsurge of Gurgaon from a small village on map to India's one of the biggest and fastest growing city.
"Aurangzeb boasts of a well-paced story and is a new take on family rivalry. The movie promises you some genuine thrills, surprises and some really powerful scenes. But, the execution somewhere looks quite unsatisfactory and half-baked. Especially, the second half could have been better and a bit more interesting.
"Not to deny, Aurangzeb is quite an engaging movie, until a certain point of time, after which you feel deceived due to poor execution. Yet, if you are planning for Aurangazeb this weekend, it won't be a good idea to keep massive expectations from the film."