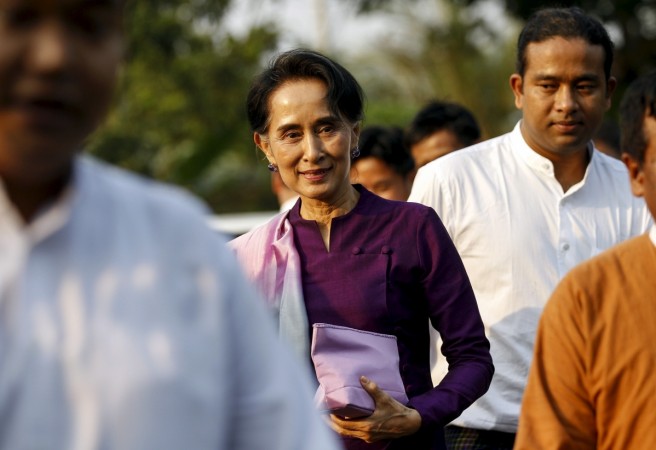 UPDATE 11:12 a.m. IST -- Aung San Suu Kyi will reportedly lead four ministries in the Myanmar gioevrnment — foreign affairs, president's office, education, electricity and energy, according to a BBC reporter.
Original Story:
Nobel Peace Prize winner Aung San Suu Kyi was Tuesday nominated for a post in Myanmar's cabinet, days after her confidant Htin Kyaw was elected the country's president. Suu Kyi had been barred by the Myanmar's military-drafted constitution from the top post in the government, though she had said she will be "above" the president after her National League for Democracy party won the November elections.
Local media reported speculations Suu Kyi may take up the post of foreign minister. According to Reuters, her name was listed next to four ministries — minister of the president's office, foreign affairs, electric power and energy, and education.
Foreign media such as the Guardian and the Wall Street Journal had reported Monday, citing sources from her party, Suu Kyi would refrain from taking up a formal position in the new government, instead choosing to remain in parliament. However, with Tuesday's nomination, she is set to become a minister.
"She will lead the [ruling] party so, she will [by extension] lead the government formed by that party," NLD spokesman Zaw Myint Maung told the Guardian.
Suu Kyi is legally barred from becoming president as she was married to a British man and her children are not Myanmar citizens.
The new government, which will be sworn in April 1, will be Myanmar's first democratically elected government in over five decades.
On Monday, United Nations and European Union said hopes of a better future under Aung San Suu Kyi's new government had stemmed the flow of migrants, mainly from among the Rohingya Muslims, fleeing the country, Reuters reported. The UN said nearly 25,000 Rohingy Muslims had returned to their communities from camps for displaced people in western Myanmar.
The U.S. State Department said there was continued "persecution" of Rohingya Muslims in Myanmar but said it did not constitute a genocide.