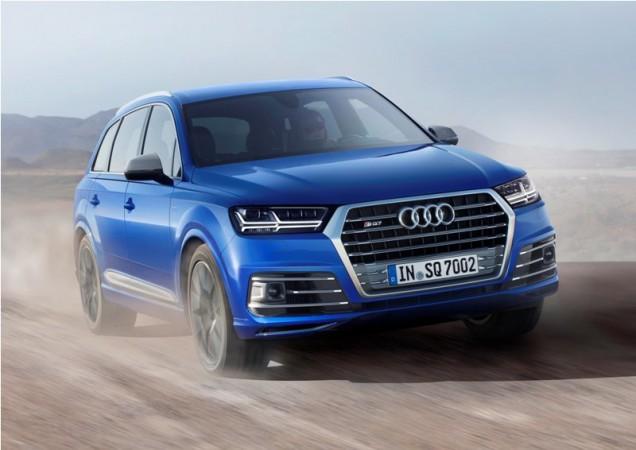 German luxury car maker Audi AG added a powerful version to the new Q7 flagship SUV range. Audi says the new SQ7 is the most powerful diesel SUV in the market and also features electric powered compressor, which makes its debut on a production car.
The heart of the SQ7 is a 3,956cc V8 twin-turbo diesel engine that develops 429bhp and 900Nm of torque between 1,000 and 3,250rpm. An electric powered compressor (EPC) augments the work of the two turbochargers, particularly in the lower engine speed range. As the EPC does not require any exhaust-gas energy to develop boost, it can be used at any time, thus acting as a solution for the turbo lag.
The V8 engine is coupled to eight-speed tiptronic transmission and power channelled to all wheels via quattro all-wheel drive system working together with a self-locking central differential. The SQ7 accelerates from 0 to 100 kmph in 4.8 seconds, before gaining a top speed of 250 kmph.
The SQ7 comes with electromechanical power steering, adaptive air suspension with S-specific tuning as standard. An optional brake system with carbon-fibre ceramic disks will follow shortly after the market launch. Audi offers the SUV with 20inch wheels on 285/45 section tires, with options up to 22 inches.
To differentiate the SQ7 from the regular Q7, Audi has given a new radiator grille with an S-specific design on the bumpers. Other distinguishing features are the side air inlets, the mirror housings and door inlays in standard aluminium. The SQ7 also features quad rectangular exhaust pipes.