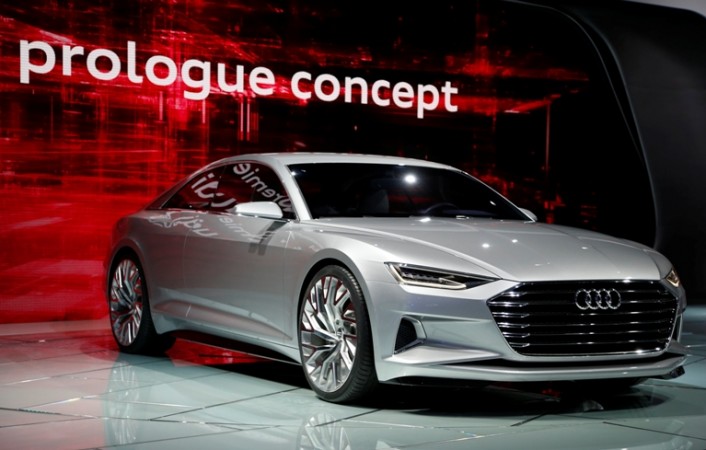 Audi, the popular luxury class automaker, was among the several other grand entries for the 2014 Los Angeles Auto Show but it was sure to grab a lot of attention with its futuristic Prologue concept. Showcased during a preview event before the Los Angeles Auto Show, which runs from November 21 to 30, Audi Prologue carries the most influential designs in the history of German car making. If not a major overhaul, the concept has got the right amount of tweaks to push the future design of the Audi cars into the forefront.
Audi Prologue is the first car concept to come from the company's new design chief, Marc Lichte, the man behind noteworthy designs of MK7 Golf and European Volkswagen Passat. Lichte's work with Audi's concept car progresses in a positive direction, promising a sporty look in the luxurious package.
"Audi stands for sportiness, lightweight design and the quattro permanent all-wheel drive," Lichte described Prologue's astonishing design cues in his own words. "In the Audi prologue, we are expressing this know‑how in a new form – we have put the sportiest car in the luxury segment on wheels. Our team took new approaches in both exterior and interior design."
While the new design looks largely different from the current models, Prologue also keeps the company's signature cues intact. The less upright grille gives the car a wider look and its angular wedge-design headlight keeps the company's latest laser-light technology. The side profile is minimal yet elegant.
To match those impressive exteriors, Lichte has continued a similar design for the interior, keeping it light and simple. Prologue features a horizontal dashboard with four-inch touch-screen displays. To power this wild beast is a 4.0-liter twin-turbo V8 engine, pushing 605 horses down the pipes and capable of achieving 0-60mph in just 3.7 seconds.
Overall, the Prologue concept is well-received, complete from its outlook to interiors and driving power. Reports are already hinting at seeing the same design in the A9 4-door coupe or even a Prologue with just two doors to fight off Mercedes S-Coupe, Bentley's Continental GT or the BMW 6-Series, Business Insider reported.
Audi Prologue will be up for public viewing during the 2014 Los Angeles Auto Show.