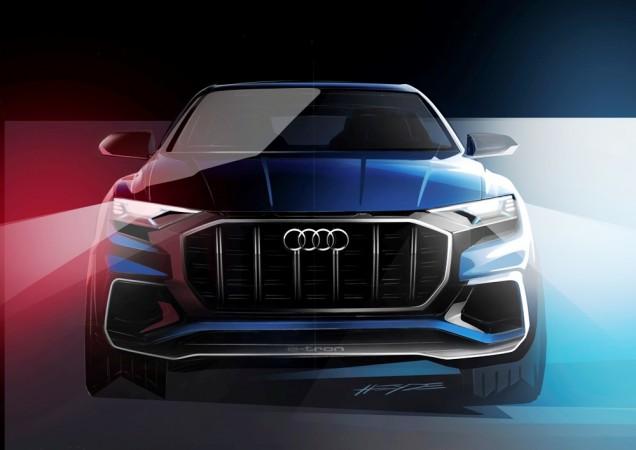 German luxury car maker Audi will start 2017 with a big note. The Ingolstadt-based company will showcase the Q8 concept at the North American International Auto Show (NAIAS) in Detroit scheduled to begin on January 8. Ahead of unveiling, the company has released sketch images of the concept.
To be pitted against BMW X6, Mercedes-Benz GLE and Range Rover Sport Coupe due next year, Q8 will be positioned above current flagship SUV of the company, Q7. The production version of the Audi Q8 concept will be a cross between an SUV and a Sportcoupe. It will be based on the MLB-Evo modular platform that underpins Audi Q7.
"With the Audi Q8 concept, we have created a new spearhead within our Q model line. Its design strongly evokes sportiness and prestige," said Audi Head of Design Marc Lichte. "What's more, we believe an important aspect of this showcar is that it offers a spacious interior with four equally comfortable seats, even with the flat roof line," he added.
The sketch images show the Q8 concept's front end as an imposing one. The octagonal singleframe grille is significantly wider than any Audi's current production models. It has a protruding stance, with three-dimensional sculpting. Many design elements of Q8 concept are reminiscent of the Audi Ur-quattro of the 1980s such as wide C-post and flared shoulders above the wheels.
The production version of Q8 is expected to be powered by V6 and V8 petrol and diesel engines. In addition, Audi will also seek alternative fuel powertrain, either a plug-in hybrid or a pure electric. Production-spec version of Q8 is expected to debut in early 2018.