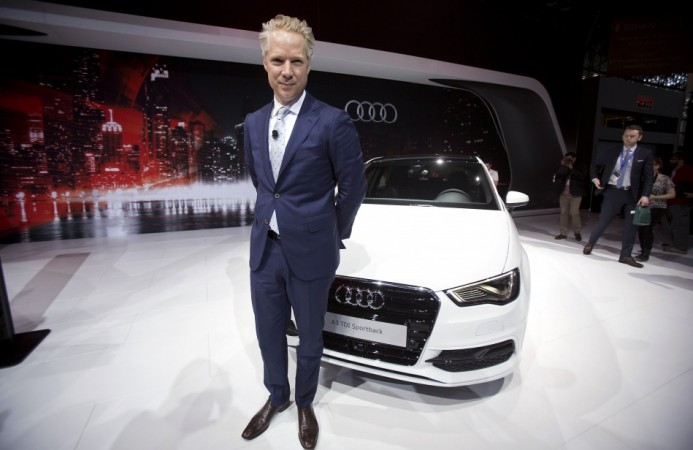 German luxury car maker Audi has begun the local production of its upcoming A3 sedan in India before the launch of the car in the country.
Audi A3, a sedan slated to be launched in India on 7 August is India's most affordable luxury sedan and this is the first car from the luxury maker's stable to be produced locally before its launch in the country. The car, which is expected to be the major game changer for the company in the country has gone into production at the Audi's plant in Aurangabad and the company is likely to open the bookings for the new A3 in India soon.
Audi's current portfolio in India includes A4, A6, A8 in the passenger car segment (S6 and S4 in the performance versions of these sedans), Q3, Q5 and Q7 in the SUV segment and R8, V8 and R8 Spyder in the sports car category. In this, A6, A4, Q5, Q7 and Q3 were brought as completely built units (CBUs) initially, though they are being locally manufactured in India now.
Audi A3, the rival of Mercedes-Benz A-Class and BMW 1 Series measures 4460mm in length, 1800mm in width, a wheelbase of 2640mm and will be offered in both diesel and petrol engine options in the country.
Under the hood, the petrol model will be powered by 1.8L turbocharged inline four cylinder engine, which can churn out 177 HP @ 4500 rpm and 250 Nm of torque and the diesel model will get power from 2.0 L TDI engine that can generate 141 HP and 320 Nm of torque. Talking of the fuel efficiency, the petrol variant is expected to return a mileage of 16.60 kmpl, while the diesel variant is impressive with 20.38 kmpl.
The car is expected to come with exciting features like bi-xenon headlamps with day-time-running LEDs, climate control, rear view camera and panoramic sunroof in India. Though we do not have the exact pricing details, Audi A3 is likely to get a price tag around ₹22-23 lakh for the base variant and ₹27 lakh for the top-end model.