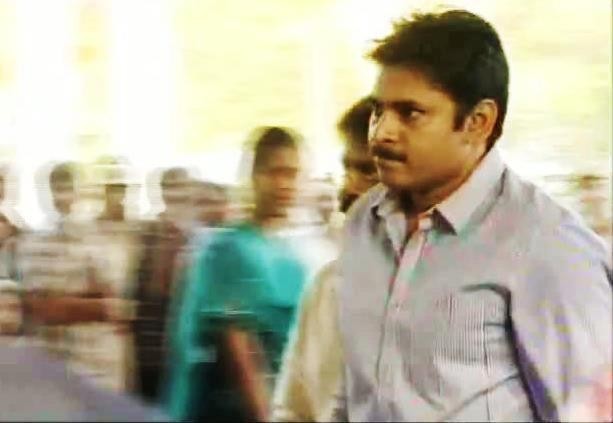 Pawan Kalyan's "Attarintiki Daredi" has received positive reviews from film critics who have termed it as a complete family entertainer that will impress the masses.
"Attarintiki Daredi" is about a guy who is on a mission to unite two families. Raghunandan (Boman Irani), a wealthy businessman in Milan (Italy), sends his grandson Gautham Nanda (Pawan Kalyan) to India to bring his daughter and her family back to him.
Raghunandan's daughter Sunanda (Nadiya) marries Shekar (Rao Ramesh) against her father's wishes and parts with him. Raghunandan is not able to bear the separation from his daughter and he asks his grandson to convince his daughter and get her back to him.
Gautham leaves for India to meet his aunt who is living with her husband and two daughters - Sashi (Samantha) and Prameela (Praneetha). Sunanda owns a five-star hotel in Hyderabad but she is facing financial crisis.
Gautham takes the name of Siddu and joins Sunanda's family as a car driver. How he unites his aunt with his grandfather is shown as the film progresses.
The film has a high dose of comedy that is sure to entertain the audience. Directed by Trivikram Srinivas, "Attarintiki Daredi" has M S Narayana, Brahmanandam, Ali, Kota Srinivasa Rao, Raghubabu, Mukesh Rushi and Posani Krishna Murali among others.
Here is the review roundup of "Attarintiki Daredi"
Ch Sushil Rao of Times of India says, "The movie is a worth watch. The reasons: Pawan Kalyan's comedy, fights composed by Peter Hein, Trivikram Srinivas' writing skills, Prasad Murella's cinematography, and Devi Sri Prasad's music. That there is promise in the movie is a feel one gets right from the opening scenes which are dramatic."
Jeevi of Idlebrain says, "First half of the film is superb and second half is equally good. Pawan Kalyan's performance and Trivikram's excellent story telling skill makes sure that your heart is touched at times and heartily laugh all the time while watching the movie. Pawan Kalyan redefines the entertainment value with his performance in Atharintiki Daaredi. Trivikram entertains classes as well as masses equally."
Indiaglitz says, "Technically, AD is effective. DSP's music and BGM elevate the film's mood quite impressively. The cinematography is alright. Peter Haines action choreography is skillful. 'AD' is a treat for the family audience, a film that has got something for everyone."
Telugucinema says, "If you are looking for sheer entertainment, know that Pawan Kalyan and Trivikram have gift packed for you with high dose of comedy. It is entertainment, entertainment and entertainment. Pawan Kalyan's histrionics, his performances and Trivikram's handling of the simple story in effective way is what makes Attharintiki Daaredhi a big entertainer. Go for it."
Verdict: Perfect Treat for Family Audience