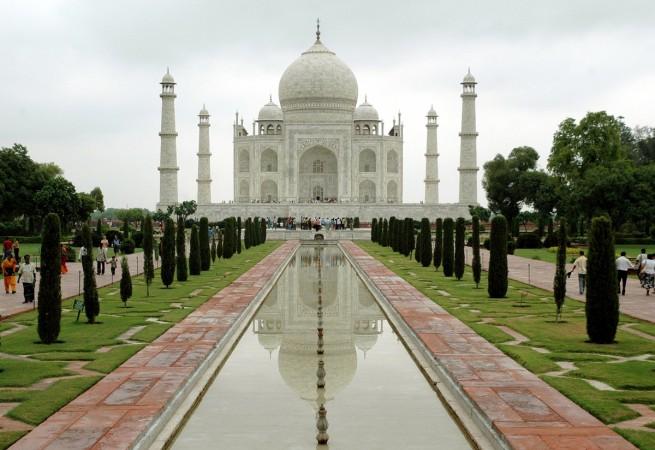 Insect attacks on the iconic Taj Mahal have reportedly led to the formation of dark green patches on its white marble exterior, causing damage to the 368-year-old monument. The National Green Tribunal has taken note of the situation and issued notices to the Ministry of Environment and Forest, the Uttar Pradesh government, the state Environment Impact Assessment Authority and the Uttar Pradesh Pollution Control Board, seeking responses on the measures being taken to curb the situation.
A preliminary report filed by the School of Entomology, St John's College, Agra, was quoted by Indian Express as saying that the widespread dumping of municipal waste in the Yamuna river nearby is believed to be the reason behind these insect attacks.
The notices were reportedly sent on the plea of environmental activist DK Joshi, who has claimed that dumping of solid waste in the Yamuna has led to stagnation of water and the consequent breeding of an insect called Goeldichironomus, a species that is an indicator of polluted water bodies.
The St John College report was quoted by the Indian Express as saying that large amounts of phosphorus and sediments in the water enhance the reproductive capabilities of the insect that can lay a thousand eggs in one go. The report also states that these insect attacks can affect tourism and that the insect repellents the authorities are reportedly using will damage the walls of the monument.
However, Doctor Girish Maheshvri, head of Entomology Department at St John's College, informed ANI that the insects are unlikely to damage the UNESCO World Heritage Site despite the attacks.
"...These grow in numbers when pollution levels of water bodies rise. They form a swamp and are attracted towards sand (stone). The swarming is a result of nuptial flight among the insects. They are attracted towards the Taj. The greenery on the monument's white marble is partially digested chlorophyll combined with their fecal matter. I don't think this will cause damage to the stone," Maheshvri told ANI.
Pollution levels in Agra have increased two to three times above global standards due to rapid urbanisation and industrialisation in the city, according to the ANI report.