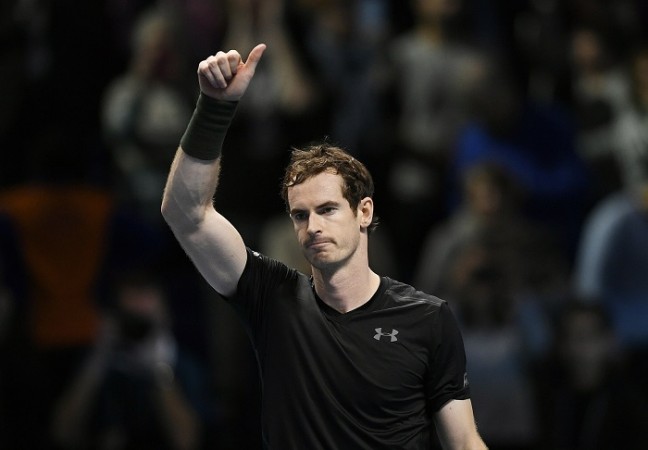 Andy Murray stayed on course for a spot in the semifinals of the ATP World Tour Finals and a lock on his No.1 ranking after battling past Kei Nishikori. Murray was made to wait, though, for a place in the last-four, after Stan Wawrinka edged Marin Cilic in the later match.
Murray started the ATP World Tour Finals with a comfortable win over Cilic, but the one against Nishikori was anything but. Playing against the man who ended his US Open hopes this year, Murray looked like he was heading for another defeat.
However, despite losing the first set tie-breaker, a long one, the Scot found a way to break the Japanese player's serve in the next two sets to complete a 6-7 (9-11), 6-4, 6-4 victory in three hours and 21 minutes, the longest three-set match in the year-end tournament.
"I'm a bit tired, obviously," said Murray. "But you tend to feel it more the following day, sort of in terms like stiffness and soreness in the body. I was in the ice bath after the match.
"That obviously helps kind of make you feel a bit better. But sort of 10, 12 hours afterwards the body starts to stiffen up. I'm sure (on Thursday) I'll be a bit sore. But it's positive I get a day's rest, a day's recovery."
Everyone will want Murray to avoid playing Djokovic, who has already qualified for the final four, in the semifinals, just so that the drama can be extended. For that to happen, both players need to finish either first or second in their respective groups. Djokovic looks like taking top spot in his group, so Murray will probably need to beat Wawrinka in his final match in order to ensure he avoids playing the Serbian in the semifinals.
Wawrinka will pose a big threat, after the Swiss picked up a 7-6 (7-3), 7-6 (7-3) victory over Cilic. Coming off a big defeat to Nishikori, this was a win the US Open champion needed to keep his hopes of qualifying for the semifinals alive.
"It was a great match," Wawrinka said. "I'm really happy with the way I played in general. It was a tough match, for sure – two tie-breaks. I think the level was really high.
"I think I was moving great. It was a great victory for me."