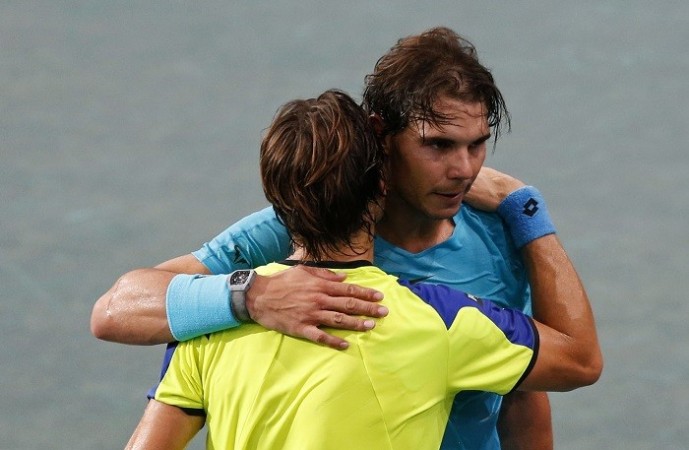 Rafael Nadal takes the first step in his quest for an elusive ATP World Tour Finals title when he comes up against Spanish compatriot David Ferrer in London on Tuesday.
Despite winning every other conceivable tennis tournament on the planet, Nadal is yet to get his hands on the season-ending trophy.
The Spanish number one, who has made a fantastic comeback from injury, which forced him to sit out of this tournament last year, is determined to set the record straight this time around.
"This is the title I'm missing," said the top-seeded Nadal. "I wish I could get this title.
Nadal has made the finals her once, three years ago, when he got the better of Andy Murray in the semifinals, before falling to the great man Roger Federer in the title decider.
"Several times I played at a high level here, but I ran into those who are perhaps the best indoor players in history," the Spaniard observed.
The Spanish maestro has struggled a little to raise his levels in the indoor season, following that epic U.S. Open victory, being knocked out in the semifinals of both the Shanghai Masters and the Paris Masters.
While the Shanghai Masters loss to a certain extent is history, Nadal will still be very much aware of that defeat to Ferrer, the man he meets in his ATP World Tour Finals opener, in the Paris Masters just a few days ago.
Ferrer, who has a terrible record against his fellow Spaniard, played out of his skin to trump Nadal in the Paris Masters semifinal, before eventually losing in the final to Novak Djokovic.
"All these tournaments are a little tougher for me, but that doesn't mean I'm not trying my best in every moment with practice, in every match. I tried at the tournament in Bercy [Paris Masters] to work hard, to play with the right tactic. I think I did... I am ready to compete well again. I'm going to try," Nadal said.
Nadal, who will definitely have revenge on his mind against Ferrer, though, is taking it one step at a time and is just, first of all, happy to be playing in London, when at the start of the season, that looked like a distant dream.
"Always it's great to be here," he said. "You're here because you worked very well during the last 10 months. It's a present to be here. Happy to be back after I missed last year. It's a special tournament in a very special stadium. I'm excited to play in this stadium again."
Where to watch
The match is scheduled for a 7.30 pm IST start with live coverage on Ten Sports and ESPN HD.