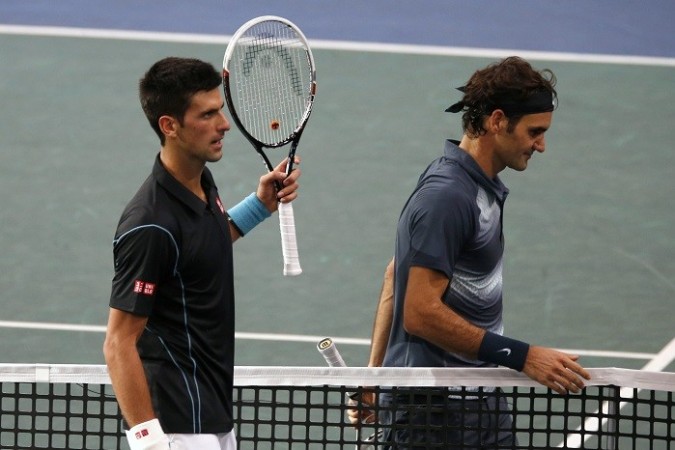 Just a few days after facing off, Novak Djokovic and Roger Federer renew their rivalry with a group game in the ATP World Tour Finals on Tuesday night.
Djokovic has been on a tear since losing the US Open final to Rafael Nadal, winning three straight tournaments in Beijing, Shanghai and Paris - the latter two Masters events.
The Serbian got the better of Federer in the Paris Masters semifinals last Saturday and will be primed for another assault in London, even if Djokovic is wary of the wounded tiger that is the Swiss great.
"He hasn't been moving as well this year as he has before, but again, he's Roger Federer," the world number two said. "He's never to be underestimated as long as he plays tennis. He's still striking the ball really well and he can beat anybody."
Djokovic still has a mathematical chance of finishing the year as the world number one, but needs to win every conceivable match to achieve that honour. The Serbian has looked unstoppable in the last few tournaments and sees no reason why he can't continue that good run.
"I'm playing my best tennis this season," Djokovic added. "If I want to have a chance to finish No. 1 I have to win all my matches here and in Davis Cup.
"What is important for me is that winning three tournaments in a row is something that gives me a lot of confidence coming into this week and opening next season. I'm building something for what's coming up. If I finish No. 1, that would be an incredible achievement."
Federer is slowly but surely finding his rhythm this year, reaching the final in Basel, before being stopped from making a run at the Paris Masters title by Djokovic. "Novak is playing great," the 17-time Grand Slam champion said. "He has won every tournament he has played over the last few. He has a lot of confidence and is playing really well."
The other two players in the group consist of Juan Martin Del Potro and Richard Gasquet with the former topping the latter 6-7 (4), 6-3, 7-5 in a hard-fought battle in their opening match on Monday night.
Where to watch
The match is scheduled for a 1.30 am IST start with live coverage on ESPN and ESPN HD. You can also catch the action live online by clicking HERE and HERE.