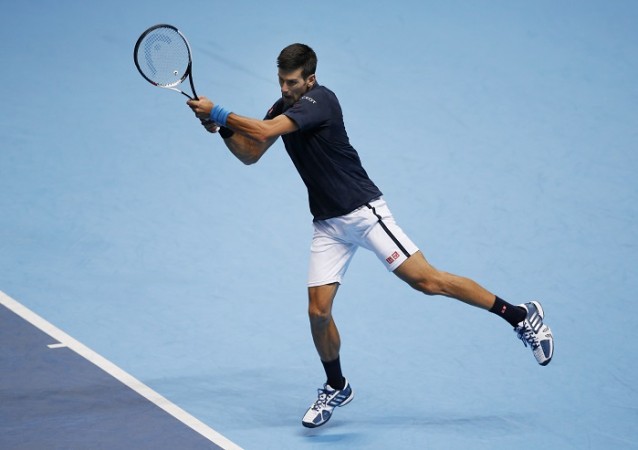 Novak Djokovic moved into the semifinals of the ATP World Tour Finals with an all-win record after brushing off David Goffin fairly easily in his final round robbing match. The world number one's win means he will finish top of Group Ivan Lendl, which means if Andy Murray doesn't top his group, the best two players could meet in the final four.
Djokovic has had a couple of struggles in this tournament so far, but there weren't too many problems against Goffin, who had come in to replace Gael Monfils, after the Frenchman withdrew from the ATP Finals. The Serbian won the match 6-1, 6-2 in 70 minutes.
"I'm very glad that my game is going in the right direction," Djokovic said. "I felt the most comfortable, definitely, so far in the tournament. I'm looking forward to the semifinals on Saturday."
While Djokovic was happy with the way he played, there was a moment of controversy again, with the Serbian warned by the chair umpire for taking too long in between games. Djokovic did not react to the warning too well, insisting he should have been given a heads-up, before he was handed an official censure.
"First of all, I accept and I know that I'm one of the players that takes the most time," Djokovic said. "There is no doubt. I'm not running away from that. Every time that I'm late, if I get a so-called soft warning or pre-warning, I'll accept it and I won't say a word.
"But I think it's fair, correct and respectful towards the player and to the game if you go over the first time, let's say, over the limit, that you at least get a heads up.
"That's all I'm asking for, to be honest. I know that the rules are strict. But there should be a kind of a feel, a sense for the game."
Joining Djokovic in the semifinals from Group Ivan Lendl is Milos Raonic after the Canadian got the better of the Austrian Dominic Thiem 7-6 (7-5), 6-3.
"I did a lot of things quite well," Raonic said. "I stepped up when I had an opportunity in the tie-break. I stepped up at the beginning of the second set and the end of it.
"There's a lot definitely to be proud of, playing under that kind of pressure, because I really wanted to get out of the group stages and I wanted to give myself a chance in the semifinals."