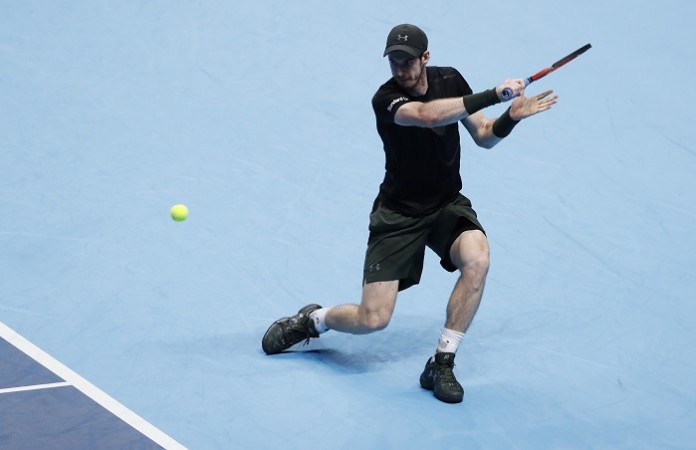 Andy Murray laid a marker in the battle for the year-end world number one spot by thumping Marin Cilic and making the perfect start to his title challenge in the ATP World Tour Finals at the O2 in London. The current world number one will want to go all the way in front of his own fans to ensure he stays above Novak Djokovic when the rankings are set for the season end.
Murray was ruthless and unforgiving in his brilliant 6-3, 6-2 win over former US Open champion Cilic, with it making the start he would have wanted in the difficult John McEnroe Group. The win was also his 20th in a row, having not lost a match since mid-September
The Brit hasn't been at his best in this tournament in the recent past and is yet to reach the final, but Murray believes the partisan crowd could end up making the difference, as he looks to keep Djokovic from wresting back the world number one ranking.
"It was a really, really good atmosphere tonight," Murray said. "After a long few months, it's nice to know that I'm going to be finishing the year playing in that sort of atmosphere. It helps you get up for the matches a bit more, as well."
In the other match of the day, Kei Nishikori was quite impressive, barely allowing the US Open champion Stan Wawrinka a chance to rise above water in a 6-2, 6-3 result.
Nishikori lost to Wawrinka in the semifinals of the US Open earlier this year, so this would have been a bit of revenge for that defeat, with the Japanese bringing out all his weapons and putting it to optimum use.
"I felt very comfortable out there" Nishikori said. :I started very well from the first game. I saw that he wasn't playing his best, and he was missing, (making) a lot of unforced errors.
"I saw a lot of opportunities, so I tried to be aggressive. Even second set, I stayed really tough and played a good match. It gives me a little confidence."