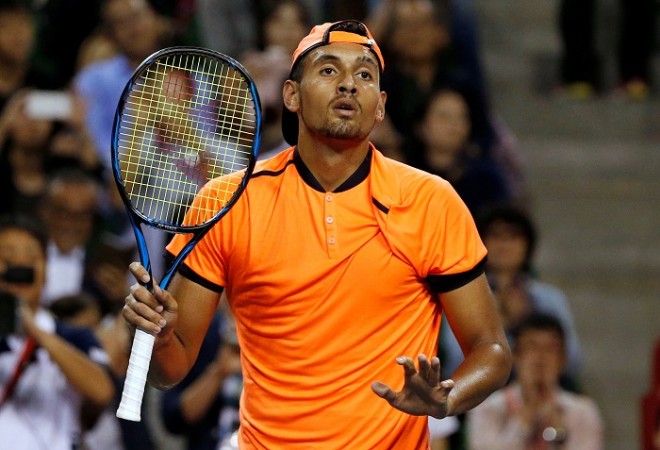 Nick Kyrgios has received a hefty fine and a suspension for his clear lack of effort during a second round match at the Shanghai Masters last week. Another page was added to the Australian's controversy-plagued career, when he failed to provide any resistance in a match against Mischa Zverev.
Kyrgios went on to lose 6-3, 6-1 to Zverev, then ranked outside the top 100, and there were plenty of moments in the match when the Australian was not even attempting to play a shot.
There was even a moment when Kyrgios put in a weak serve and walked to his chair even before Zverev had completed his return. Such behaviour naturally led to much criticism and after the ATP initially fined the 21-year-old $16,500, a couple more sanctions were made on Monday.
The ATP announced a second fine of $25,000 and a suspension until January 15, 2017.
"Following the completion of its investigation into Nick Kyrgios' second round match last week at the Shanghai Rolex Masters, the ATP has announced that Kyrgios has been found to have committed the player major offense 'Conduct Contrary to the Integrity of the Game,'" the ATP said in a statement.
"The offense means that Kyrgios receives an additional fine of US$25,000, and is suspended from ATP tournaments for eight tournament weeks, effective from today, Monday 17 October, 2016, through to Sunday, January 15, 2017."
There is a glimmer of hope for Kyrgios if he wants to play again this year, with the ATP saying the suspension will be reduced to three weeks if he takes up a "plan of care under the direction of a sports psychologist."
"However, the suspension will be reduced to three tournament weeks upon agreement that the player enters a plan of care under the direction of a sports psychologist, or an equivalent plan approved by ATP, meaning Kyrgios could regain eligibility to compete on the ATP World Tour or Challenger Tour from Monday, November 7, 2016," the statement added.
"Today's announcement completes the ATP's investigation into this matter which, following the conclusion of the on-site process, included further review of the match, as well as comments made during Kyrgios' post-match press conference."
During the post-match press conference Kyrgios, who also had a run-in with a fan who wanted the player to put in his best efforts, was pretty unrepentant, even if he took to Twitter later to apologise for his performance.