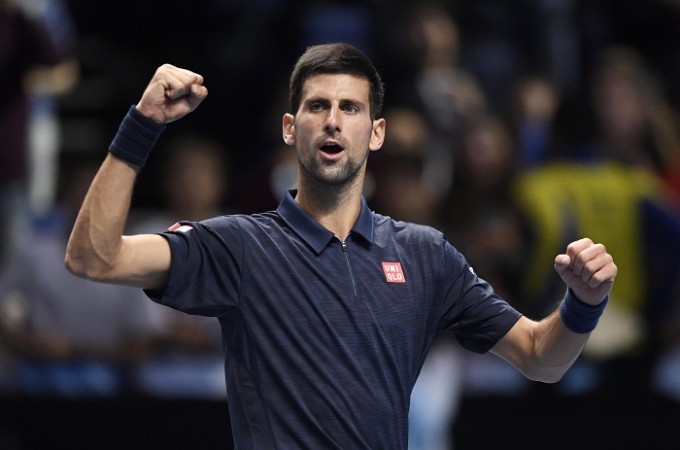 The highly-anticipated ATP World Tour Finals started on Sunday. Novak Djokovic and Milos Raonic have won their first matches of the competition, against Dominic Thiem and Gael Monfils, respectively, in the round-robin match of Group Ivan Lendl. Though it was a cruising win for Raonic, Djokovic was tested by his opponent, with the match going to three sets.
Djokovic, who is the top favourite to end the season on a high by clinching the ATP finals, showed some great fighting spirit and roared back to win the match after losing the first set. The score read 6-7(10-12), 6-0, 6-2. The first game was extremely close as the Serb was outplayed by the brilliance of Thiem, who could not build on that superb momentum in the remaining two sets.
Thiem, despite winning the first set, knew Djokovic would come back hard, and the Serbian did, forcing errors from the Austrian. The Serb was quite pleased with his performance in the second and third set, where he was in full control of the match.
"Even though I lost the first set, I thought I didn't do too many things wrong. It was just the very high quality of his game that prevailed in the first set. I started swinging more freely in the second set. He started making more errors, which I used. I was on top of his second serves, putting a lot of pressure. I thought I played very well in the second set especially, but the third as well," ATP official website quoted Djokovic as saying.
On the other hand, Raonic, who has enjoyed a good season so far, did not have any trouble defeating Monfils. The Frenchman did look good in patches, but he lacked consistency. Raonic did not make too many errors and played the game with high intensity, winning the match in straight sets, 6-3, 6-4.
The Canadian, as the game progressed, looked even more dangerous and appeared assured of his victory in the final moments as well. Raonic will be determined to perform his best in the tournament, which includes only in-form players. Raonic was satisfied with the way he hit the ball clean against Monfils.
"I gave myself a lot of opportunities. I played well. I took care of my serve very efficiently. All those things came together nicely. I competed well, had a good attitude and hit the ball pretty well as well," Raonic said.