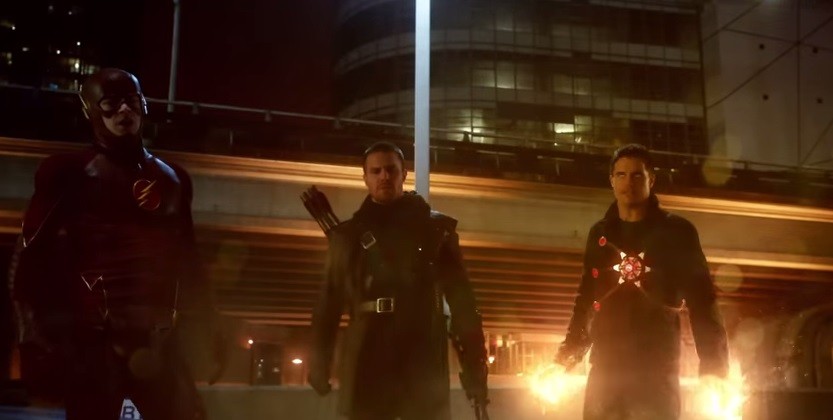 As "Arrow" season 3 gets fans to the edge of their seats with the unexpected twists, and "The Flash" nears its season finale, the CW Network is secretly working on a "Arrow-Flash" spin-off. The good news is that the new series has not only been approved for a pilot, but also for the complete season.
According to information revealed by Victor Garber of the "Professor Martin Stein" fame from "The Flash", the production will start from August 2015 and will premiere next January. He also mentioned in an interview with Broadway World that he will continue with the role of Professor Stein. He also revealed some hitherto unknown facts.
"The character I play is half of Firestorm, so conjoined – together – they are Firestorm. It's been very wild and fun for me to do it... I think it's going to be a very fun ride. I really honestly can't tell you much about it except it is completely new and it will involve a lot of interesting people. We haven't filmed any of it yet – but, it is going straight to series. We start filming in August and it will be on [The CW] in January," Garber told the website.
He also said that the producers have planned 'something' for the unveiling of the new series on 14 May, and fans might expect the usual teaser trailers, cast reveals, synopsis about the series or most likely, the title of the spin-off.
Though the network hasn't yet decided on the name, Screenrant says the show is being referred to as "The Atom"; there are also talks about adding a subtitle "Legends of Tomorrow" to the name, as the sub-plot has time-travel already confirmed.
Meanwhile, the website also says that fans can expect answers about the return of Caity Lotz, who is playing the now-deceased Sara Lance, aka Black Canary. It also mentions that the network may put an end to the mystery to rest while revealing the new series.