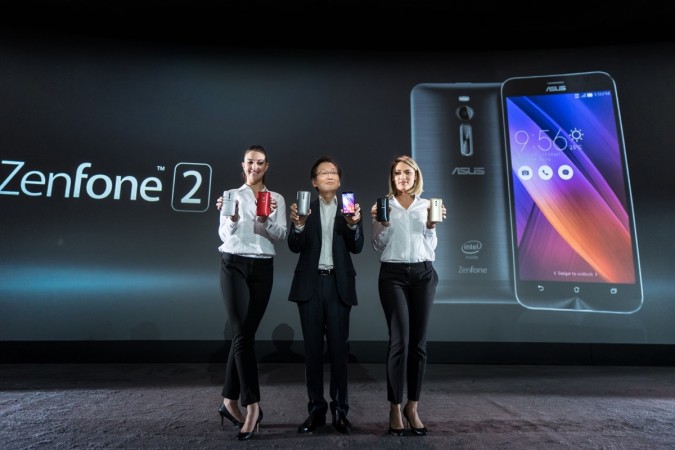 Taiwanese consumer electronics major, Asus is reportedly planning to launch the much anticipated Zenfone 2 series smartphone in India next month.
Technology blog, Android Pure has learnt from its sources that Asus is expected to release the Zenfone 2 (ZE551ML) with 4GB RAM in April in India.
There is no word on how much the device would be priced at, but sources say Asus will stock enough units in its inventory in India to host an open sale instead of the dubious flash sales strategy used by rivals Xiaomi and Lenovo in India.
If this turns out to be true, it will certainly help the brand in developing loyalty among consumers. The dubious flash sales conducted by certain companies have been accused of using this as a marketing trick in creating artificial scarcity and boast record sold-out time on social network sites to help build the brand.
After trying flash-sales strategy, Motorola has become efficient in maintaining steady supply-demand in India, and Asus too is now making the right move to provide equal opportunity to all loyal consumers to buy devices during their spare time.
Zenfone 2 (ZE551ML) is the top-end model. It boasts of 5.5-inch full HD display and runs on the latest Android 5.0 Lollipop OS powered by 64-bit class based 2.3GHz Intel Atom processor Z3580 with PowerVR G6430 graphics engine, 4GB RAM and 16GB/32GB/64GB inbuilt memory and a 3000 mAh battery.
It has to be noted that Zenfone 2 (ZE551ML) also comes in a 2GB RAM model (right now sold in Taiwan only) and houses pretty much same specification seen in the above variant except the processor type. It houses a 1.8GHz Quad Core Intel Atom Z3560 with PowerVR G6430 GPU.
Besides the ZE551ML variant, Asus also sells two more Zenfone 2 series devices -- ZE550ML and ZE500CL models in Taiwan. The former model sports 5.5-inch HD screen and ships with 1.8GHz Intel Atom Quad Core Z3560 (1.8GHz) with PowerVR G6430 GPU, 2GB RAM, 16GB memory and a 3000 mAh battery.
The latter (ZE500CL) is low-end smartphone. It features a smaller 5.0-inch HD display. Under the hood, it comes packed with 2GB RAM, 1.6GHz Intel Atom Z2560 processor and a 2500 mAh battery, which can run the phone for close to 360 hours under standby mode.
Key specifications of Asus ZenFone 2 variants:
Model
Asus ZenFone 2 (ZE551ML)
Asus Zenfone 2 (ZE550ML)
Asus Zenfone 2 (ZE500CL)
Display

5.5-inch full HD (1920x1080p) IPS screen with wide 178-degree viewing angle. It also boasts of ASUS TruVivid display technology and is protected by Gorilla Glass 3 shield
Pixel density: 403 ppi (pixels per inch)

5.5-inch HD (1280x720p) IPS screen
5.0-inch HD (1280x720p) IPS screen
OS
Android 5.0 Lollipop OS with custom Zen UI
Android 5.0 Lollipop OS with custom Zen UI
Android 5.0 Lollipop OS with custom Zen UI
Processor

Model 1: 64-bit class based 2.3GHz Intel Atom processor Z3580 with PowerVR G6430 GPU
Model 2: 1.8GHz Quad Core Intel® Atom ™ Z3560 with PowerVR G6430 GPU

1.8GHz Intel® Atom ™ Quad Core Z3560 (1.8GHz) with PowerVR G6430 GPU
1.6GHz Intel® Atom ™ Z2560
RAM
4GB/2GB
2GB LPDDR3
2GB LPDDR2
Storage
16GB/32GB/64GB (+ 64GB via microSD card)
16GB, expandable up to 64GB
16GB, expandable up to 64GB
Camera

Main: 13.0-megapixel camera with PixelMaster technology, Backlight (HDR) mode, f/ 2.0 aperture, Real Tone flash
Front: 5.0-megapixel camera with 88-degree field of view and also comes with ZenUI Selfie Panorama mode which can capture panoramic selfies with up to a 140-degree field of view.

Main: 13.0-megapixel camera with PixelMaster technology, Backlight (HDR) mode, f/ 2.0 aperture, Real Tone flash
Front: 5.0-megapixel camera with 88-degree field of view and also comes with ZenUI Selfie Panorama mode which can capture panoramic selfies with up to a 140-degree field of view.

Main: 8.0-megapixel camera with LED flash, f2.0 aperture,
Front: 2.0-megapixel camera

Battery
3000 mAh;Comes with fast-charge technology where-in phone can get re-charged close to 60-percent battery capacity within 39 minutes
3000 mAh;Comes with fast-charge technology where-in phone can get re-charged close to 60-percent battery capacity within 39 minutes
2500 mAh;

Talk time: up to 28 hours;
Standby time: close to 360 hours;

Network & Connectivity
4G-LTE (Cat 4: 150/50 mbps), Wi-Fi (802.11ac), Bluetooth, dual-SIM slots (type: micro)
4G-LTE (Cat 4: 150/50 mbps), Wi-Fi (802.11ac), Bluetooth, dual-SIM slots (type: micro)
Single-SIM slot, 2G/3G/LTE(CAT3) 4G: 700/900/1800, GPS/GLONASS,
Add-ons

ZenMotion is a collection of intuitive touch gestures, each providing a new way of interacting with ZenUI, and allowing quick and easy access to frequently-used features such as One Hand mode or Do It Later.
SnapView is a security feature that ensures privacy for apps, photos, and files. SnapView lets users easily keep their personal and business information separate.
Trend Micro security is integrated with the ZenUI browser for the total mobile web browsing security.
ZenUI Instant Updates is a seamless new method of keeping ZenUI apps up to date. With ZenUI Instant Updates, ASUS app developers can make updates available immediately, avoiding delays between app releases and ensuring the best experience for ZenFone 2 users.

ZenMotion is a collection of intuitive touch gestures, each providing a new way of interacting with ZenUI, and allowing quick and easy access to frequently-used features such as One Hand mode or Do It Later.
SnapView is a security feature that ensures privacy for apps, photos, and files. SnapView lets users easily keep their personal and business information separate.
Trend Micro security is integrated with the ZenUI browser for the total mobile web browsing security.
ZenUI Instant Updates is a seamless new method of keeping ZenUI apps up to date. With ZenUI Instant Updates, ASUS app developers can make updates available immediately, avoiding delays between app releases and ensuring the best experience for ZenFone 2 users.

ZenMotion is a collection of intuitive touch gestures, each providing a new way of interacting with ZenUI, and allowing quick and easy access to frequently-used features such as One Hand mode or Do It Later.
SnapView is a security feature that ensures privacy for apps, photos, and files. SnapView lets users easily keep their personal and business information separate.
Trend Micro security is integrated with the ZenUI browser for the total mobile web browsing security.
ZenUI Instant Updates is a seamless new method of keeping ZenUI apps up to date. With ZenUI Instant Updates, ASUS app developers can make updates available immediately, avoiding delays between app releases and ensuring the best experience for ZenFone 2 users.

Dimensions
152.5 x 77.2 x 3.9 ~ 10.9 mm
152.5 x 77.2 x 3.9 ~ 10.9 mm
148.1 x 71.5 x 10.9 ~ 3.9 mm
Weight
170 g
170 g
155 g
Colours
Red / gray / black / white / gold
White and black
Red, white and black
Price (In Taiwan New Dollars)

4GB RAM/64GB memory model (ZE551ML): TWD 9990 (around $316/€298/₹19,850)
4GB RAM/32GB memory model (ZE551ML): TWD 8,990 (around ₹17,900)
2GB RAM/16GB memory model (ZE551ML): TWD 6,990 (around ₹13,900)

TWD 5,990 (around ₹11,900)
TWD 4,990 (around ₹9,930)