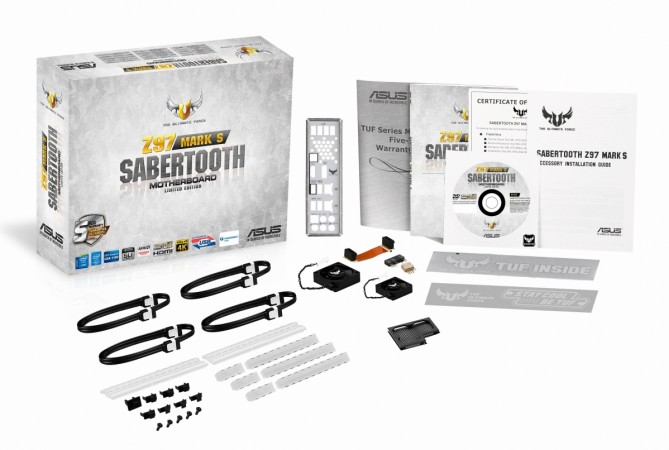 ASUS has announced the TUF Sabertooth Z97 Mark S, a Z97 ATX motherboard with a strikingly white and irresistibly tough arctic-camouflage design and a limited edition production run.
The latest ASUS masterpiece has multiple renowned TUF features. These include TUF camouflage-white Thermal Armor with Flow Valve to optimise airflow, Thermal Radar 2 for intuitive fan tuning, a TUF ICe microchip to intelligently monitor and control system temperatures and fan speeds, reinforced camouflage-white TUF Fortifier backplate, high-durability TUF components and TUF Dust Defenders to prevent airborne particles entering via external ports.
Adding to the aesthetic appeal are two traditional Chinese characters adorning the rear of Sabertooth Z97 Mark S. Carrying the meaning 'tiger spirit', they signify that Sabertooth Z97 Mark S is made with unwavering endurance to survive the most extreme conditions.
Sabertooth Z97 Mark S is equipped to remain as cool as its strikingly white in looks. TUF's Thermal Armor with Flow Valve technology is an exclusive arctic-camouflage-style cover with dual fans to boost airflow across the system for maximum heat dissipation.
The new board comes with TUF's easy-to-use Thermal Radar 2 software to make quick work of fan tuning for complete system cooling, enabling users to enjoy the perfect balance between quietness, cooling and performance.
Sabertooth Z97 Mark S also has an onboard TUF ICe microchip, which delivers incredibly precise temperature monitoring and fan control whether adjusting settings manually or via Thermal Radar 2's one-click optimisation feature.
Sabertooth Z97 Mark S offers great strength and cooling, with exclusive TUF Fortifier technology. This reinforced backplate ensures that the motherboard doesn't buckle under the weight of heavy graphics cards and CPU coolers, minimising the risk of damaged circuitry from bowing and bending.
TUF Fortifier also includes a thermal pad that efficiently directs heat away from the back of the 8+2-phase Digi+ voltage-regulator module (VRM) and other critical components — an innovation that reduces operating temperatures by up to 7°C.
Sabertooth Z97 Mark S is an enthusiast-level motherboard that delivers server-grade reliability — and that's guaranteed. ASUS engineers put the new motherboard through extensive thermal-shock and stability tests, so users are assured that it will endure even the toughest conditions. Sabertooth Z97 Mark S also benefits from TUF ESD Guards that protect various ports, including USB sockets and audio connectors, from sudden electrostatic discharge.
Sabertooth Z97 Mark S is available this month in very limited quantities for an end-user price of ₹24,250. Like all TUF series motherboards, the Z97 Mark S will come with a 5-year warranty.