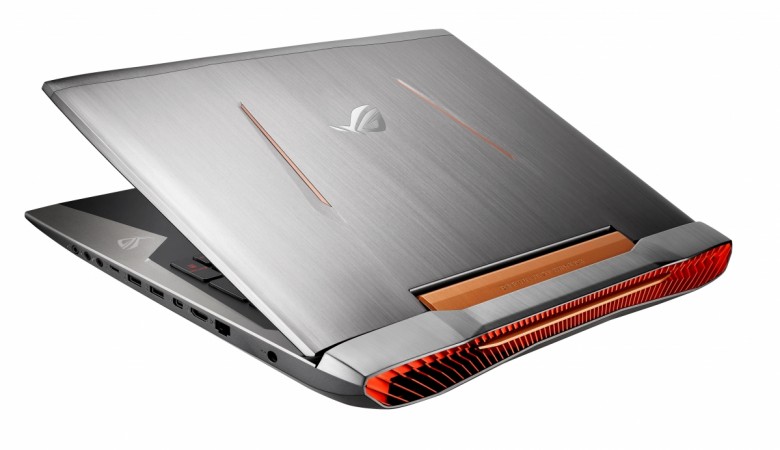 Asus launched six new gaming computers at an event in New Delhi on Wednesday and also showcased them at a separate media gathering in Bengaluru the following day. The new lineup of laptops and desktops joins the PC maker's flagship ROG (Republic of Gamers) series. Asus unveiled at the event two new gaming PCs and four notebooks equipped with the latest cooling technology, which is essential for lasting and uninterrupted gaming experience.
The new gaming notebooks — the ROG G501VW, ROG G551VW, ROG G752VY and ROG GL552VW — and the desktops — the ROG G20 and ROG GT51 — are powered by sixth generation Intel core i7 (Skylake) processors combined with NVIDIA's GeForce GTX 900 GPU for graphics and Windows 10 OS. The base model of the new ROG series starts at Rs. 82,490 for ROG GL552VW and goes all the way up to Rs. 3,25,900 for ROG GT51.
"Today, along with high performance and graphics, gamers also want their machines to be portable and light-weight," Peter Chang, regional head Southasia and country manager at Asus India, said in a statement. "With our new ROG series launch, we have tried our best to cater to the demands of all the gaming segments i.e. from entry and mainstream levels to professional gaming. It has always been our endeavor to provide the best gaming experience to the users and ultimately help the gaming industry in India to thrive."
In terms of core specifications, below are the details of each laptop individually:
ROG GT51
Asus ROG GT51, which is the most expensive gaming PC starting at Rs. 3,25,900 launched on Wednesday, supports up to three 4K monitors. It boasts a stylish design, featuring an Armor Titanium and Plasma Copper finish and customisable lighting effects with up to 8 million colours.
The Intel Skylakei7-6700K processor in the PC is paired with Nvidia GeForce GTX Titan X GPU for graphics. The premium tower has a USB 3.1 Type-C port, enabling data transfer speeds up to 10Gbps and an internal cooling system with a dedicated air tunnel for extended gaming sessions without overheating the PC.
We played two sessions of Witcher 3 on an assembled desktop computer at the event. The graphics were simply great and so was the audio quality through Asus on-ear headphones. The computer supports virtual reality and was awarded winner of a "2016 CES Innovation Award" in the gaming and VR category.
ROG G20
Asus ROG G20 is priced at Rs. 1,22,990 and offers powerful performance focussed at gaming enthusiasts. The desktop computer has a compact body and features 2.5-inch and 3.5-inch slots of SSDs and HDDs. It supports Nvidia GTX980 GPU and M.2 PCle Gen 3x4 SSD. Gamers can take advantage of the Aegis II software with GameAlive to record, edit and stream gameplays.
ROG G752VY
The high-end gaming laptop by Asus features a premium design that will appeal to gaming enthusiasts. The ROG G752VY features a great 4K IPS display and the metallic design of the laptop shows the worth of its hefty price tag.
Under the hood, the Intel SkyLake i7 processor is paired with up to 64GB LPDDR4 RAM, 1TB storage, 4GB GDDR5 graphics memory and the latest Nvidia GEFORCE GTX 980m GPU. It is also powered with mobile 3D Vapor Chamber for cooling. The backlit keyboard comes with 30-key rollover for better control in gaming sessions. Asus ROG G752VY is priced at Rs. 1,79,990.
ROG G551VW
Priced at Rs. 1,00,490, the ROG G551VW is a high performance gaming laptop with silent cooling system. The laptop has a 4K IPS display with 178-degree viewing angles for great visuals and SonicMaster and ROG AudioWizard integrated audio system for complementing sound.
The ROG G551VW packs an NVidia GTX 960M GPU, 4GB GDDR5 graphics memory, 16GB ultrafast system memory, 1TB storage along with 128 GB SSD. The design of the G551 follows the signature ROG series design strategy with slim, metallic construction, which makes gaming on-the-go simple.
ROG G501VW
The ROG G501VW, which is 20.6mm thick and weighs a little over 2kg, has a premium light weight metallic design. It also has 4K IPS panel with 178-degree viewing angles and offers a better audio experience powered by Sonic Master and ROG Audio Wizard, like the ROG G551VW.
The device is powered by Nvidia GTX960GPU, 4GB GDDR5 graphics memory, 16GB DDR4 system memory and has up to 2Gbits/sec speeds through 512GB PCIe Gen 3x4 SSD. It has upgraded Hyper Cool technology to keep the system cool even during long gaming sessions. Asus ROG G501VW is priced at Rs. 95,490.
ROG GL552VW
The ROG GL552VW is the entry-level gaming laptop in the latest ROG-series. It is priced at Rs. 82,490 and is no less attractive than the rest of the devices. According to the company, the GL552's design is inspired by the F22 Stealth fighter aircraft and has a premium dark metallic finish and a backlit ROG logo.
It is powered by the sixth gen Intel core i7 Skylake processor, Nvidia GTX960M GPU, 4GB GDDR5 graphics memory, 16GB system memory and 1TB of storage with 128GB SSD.