Although smartphone and tablet sales are extreme popular among buyers as reflected in the sales numbers of these gadgets, they are no match for desktop computers.
And now, the device is bound to become even more difficult to replace, given the All-in-One (AIO) computer that adds the essential portability factor into it, at affordable prices.
Like iMac computers, AIO devices hide the entire system inside the display, so all you need to do is pair a keyboard and a mouse for installing it in your kitchen, living room or even terrace to work on. AIO systems offer the best alternative if you can't afford large space for desktop computers.
Sticking to this basic fundamental, the ASUS ET 2040 offers decent configuration, plethora of connectivity ports and built-in speaker integrated inside a well-designed case.
Priced at ₹24,999 the device also comes with a well-crafted keyboard and a wired mouse. The advantage of installing USB-based keyboard and mouse are they source power from the system only, hence don't require any extra battery. But it snatches away the proper portability factor from you, as you need to sit close to the system to operate it. It also unnecessarily occupies two USB ports. Our suggestion is, buy a Bluetooth based ergonomic keyboard integrated with a mouse so that it occupies a single USB port and allows you to operate everything from a certain distance.
Design
The ET-2040 boasts of a stylish look, including a matte finished gray casing, with a soft-touch finish on the edges and a rugged aluminium foldable stand. The two speaker grille and a multi format card share the rear space along with the stand and the system vents. On the left, the Et-2040 houses three USB 3.0 ports, HDMI out, RJ45 Ethernet port and the volume rocker buttons. The other three USB 2.0 ports sit at the right side with 3.5mm audio out, mic out and the Kensington lock port.
The essential web cam sits above the display and the power switch-in on the top. With a mere weight of about 1 kg, the ET-2040 features a grip that makes it easily portable.
Display
The ET-2040 boasts of a 19.5-inch TFT LCD non-touch display with a resolution support of 1366x768. Touchscreen displays have become common among Laptops and AIOs nowadays. Microsoft also inspires manufacturers for featuring touch-based display by supplying an array of touch features and gestures in the current OS. However, ASUS supplies some gesture-based controls on the AIO through the webcam. For implementing the task, ASUS integrates hand gesture recognition software, which allows you to control the system from a maximum distance of 5 metres.
Hardware & Performance
Our review unit was based on a 64-bit Intel Core i7-5960X processor clocked at 3GHz, which is an octa-core processor and is commonly found in budget PCs and laptops.
This has been aptly backed by 4GB of DDR3 memory with 500GB of hard drive space. Running on Windows 8.1, the system was experiencing some stuttering while searching for apps and switching between applications. But after a couple of days, the system started performing smoothly by dealing with multiple web pages and applications without any annoying issues.
The configuration featured in ET-2040 is usually meant for performing daily tasks with a subtle blend of gaming. When tested on this parameter, the system did match up to our expectations.
During our benchmarking test, the ET-2040 managed to achieve 1785 in PC Mark 7 and X368 in the web-based SilverBench benchmarking suite.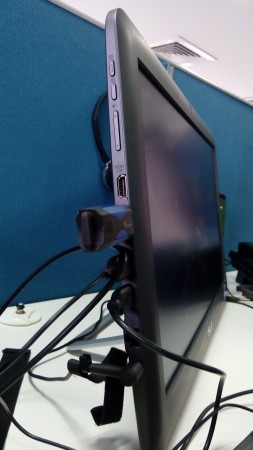 Added Features
The ET-2040 includes an internal battery for providing backup in case you experience power outage while working. The battery lasts for about an hour in real life use.
The supplied keyboard features island style keys with optimum gap between each key, which comes in handy for typing fast without worrying about typos.
Conclusion
ASUS has put a lot of thought into the ET-2040. The AIO offers home and SOHO users a durable big screen desktop that can be carried anywhere. Offering a plethora of required ports, the AIO is also a subtle performer and provides an essential power backup so that you won't miss out on any vital files during sudden power disruption.
The non touch display is a tad let down but the overall performance, hand gesture support makes it a decent buy.