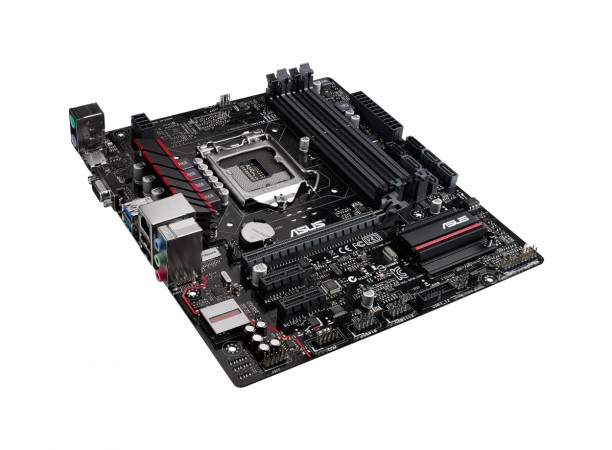 ASUS has launched a new gaming motherboard in India. Named as B85-Gamer, the new motherboard is touted as the first Micro-ATX based motherboard focused towards gamers.
The B85M-Gamer is ready for the 4th-generation Intel Core processors, and is packed with the latest high-speed Intel Gigabit Ethernet networking, ASUS SupremeFX technology for flawless gaming audio and exclusive Gamer's Guardian components for exceptional durability and reliability.
The new mATX motherboard includes the ASUS-exclusive AI Suite 3 tweaking toolbox to push gaming experiences further than ever before.
ASUS engineers used independent network-assessment tools to calculate that Intel Gigabit Ethernet technology deals with the User Datagram Protocol (UDP) data packets — which are vital for responsive gaming — up to two times (2X) faster than competing gaming-LAN technologies, giving B85M-Gamer users a crucial online-gaming edge.
B85M-Gamer also incorporates ASUS-exclusive LANGuard. This employs advanced signal-coupling technology and premium surface-mounted capacitors. It also includes both surge protection and electrostatically-guarded components to defend against lightning strikes and static-electricity discharges.
B85M-Gamer has ASUS-exclusive SupremeFX built-in technology, so gamers can enjoy audio with a remarkable signal-to-noise ratio (SNR) of 115dB — bringing every sound detail to life.
The advanced SupremeFX audio chipset is isolated from electromagnetic interference (EMI) by a protective shield, preserving the integrity of the audio signals. Exclusive 'red-line shielding' horizontally separates B85M-Gamer's audio components from the rest of the motherboard. This unique combination effectively eliminates analog interference to ensure flawless sound quality.
B85M-Gamer benefits from high-quality, highly-durable Gamer's Guardian components for exceptional real-world protection.
Gamer's Guardian includes onboard resettable fuses that protect the connection ports and DRAM against over current and short-circuit damage, and ESD Guards on the USB ports, audio connectors and Ethernet (LAN) port ensure that B85M-Gamer is actively protected against sudden electrostatic discharge (ESD). The result is that the components last much longer.
ASUS B85M-Gamer will be available from March at a retail price (MOP) of ₹6,365 (inclusive of taxes) and comes with a three-year warranty.
Key Specifications:
CPU socket
LGA 1150 socket for the 4th- and new 4th-generation Intel® Core™ i3, i5, i7, Pentium®, and Celeron® processors
Chipset
Intel B85 Express
Memory
4 x DIMMs2, up to a maximum of 32GB, DDR3 1600MHzSupports Intel Extreme Memory Profile (XMP)
Expansion slots
1 x PCI Express 3.0/2.0 x16 slot2 x PCI Express 2.0 x1 slots
Graphics (VGA)
Integrated Intel HD GraphicsSupports HDMI at maximum resolution of 4096 x 2160 at 24Hz / 2560 x 1600 at 60HzSupports D-sub at maximum resolution of 1920 x 1200 at 60HzSupports Intel InTru™ 3D, Intel Quick Sync Video, Intel Clear Video HD Technology and Intel Insider™
Storage connectivity
4 x SATA 6Gbit/s connectors2 x SATA 3Gbit/s connectors
Networking/LAN
Intel Gigabit Ethernet + LANGuard
USB
4 x USB 3.0/2.0 ports (2 on back panel, 2 mid-board)6 x USB 2.0/1.1 ports (2 on back panel, 4 mid-board)
Audio
SupremeFX 8-channel high-definition audio- High-quality stereo playback with 115dB signal-to-noise ratio (SNR)- Jack-detection, multi-streaming, front-panel mic jack-retasking- SupremeFX shielding technology

- ELNA® premium audio capacitors

- Headphone amp

Dimensions / form factor
mATX, 9.2 x 8.1in (23.3 x 20.6cm)