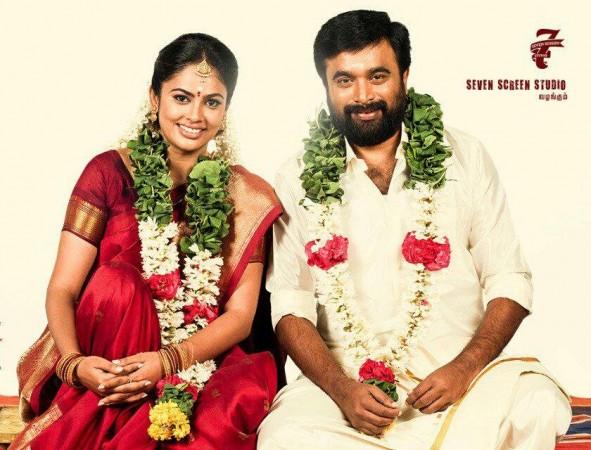 Tamil film Asuravadham's trailer was filled with violence and gore and it caught the audience's attention. Glimpses of Sasikumar's brutal way of fighting his rivals in the trailer promises a yet another movie high on action.
Sasikumar has teamed up with Maruthupandian of Chennai Ungalai Anbudan Varaverkirathu fame. Nandita Swetha plays the female lead in the film, which has famous writer Vasumithra playing the antagonist in the Tamil film.
Asuravadham has SR Kathir's cinematography, Govindraj's editing, Kumar Gangappan's art and Govind Vasantha's music.
Story:
The movie is majorly set in the rural backdrop. Sasikumar plays the role of a construction worker in the Middle East. The drama that unfolds when he lays his foot on his village forms the crux of the story. In short, it is a battle between good versus bad.
Hype:
Looking at the promos, one gets an impression that it is a movie filled with out-and-out violence. But the makers have stated that it has a socially-relevant theme and justified the blood and gore. At the heart of the story, there is a good tale with emotions.
The movie, which has its premiere on Thursday, June 28, has certainly caught the attention of the masses with its trailers. Will it live up to the expectations? Find it out in netizens' words here:
vb: #Asuravadham : One of the best revenge thriller! @govind_menon's BGM, @srkathiir's camera @SasikumarDir Edge of seat thriller!! Action sequence in the lodge is fantastic! Do watch it!
Sidhu: #Asuravadham: A new flight for @SasikumarDir as an actor, with minimal dialogues. @srkathiir and @govind_menon are two huge assets of the film, superb fight scenes backed by riveting BGM.
#Asuravadham: Rage and rampage. Comes off as one of the best revenge thrillers in Tamil cinema, with a different approach and a social message presented in the right fashion. Hard-hitting, though exceedingly violent.
#Asuravadham Interval: So far a fast-moving see-saw game between hero and villain, without the reason being revealed. Terrific cinematography and music ups the ante.
Ramesh Bala: #Asuravadham [3.25/5]: Stunt Choreographer @dhilipaction is another pillar for the movie..
Dir #MaruthuPandian has taken a sensitive subject and gave a new treatment in the revenge genre..
Not the typical #Sasikumar Village movie.. A different one! Go 4 it!
#Asuravadham [3.25/5]: @Nanditasweta in a small, but effective role.. A difficult role for her and she has done well..
Writer #Vasumitra is the villain.. We will see him a lot in future..
DOP @srkathiir 's best work.. Music Composer #GovindMenon 's BGM is highly impressive..
#Asuravadham [3.25/5]: An Emotional Revenge Thriller.. Hero terrorizes the villain thru a deadly Cat and Mouse game..
Touches a sensitive subject.. Technically Top-notch..
@SasikumarDir without the help of any lengthy dialogues, delivers a memorable performance..
TamiltvchannelExpress: #Asuravadham 1st half - A very non-verbal part for @SasikumarDir with just a few dialogs. His actions and body language do the talking instead. His screen presence is enhanced by the slick filmmaking..
#Asuravadham - A subtler @SasikumarDir film but there is no compromise on the intensity & action.. Emotional revenge thriller centered on a family.. The topnotch filmmaking is the biggest takeaway!
Rajasekar: #Asuravadham - Brilliant first half, a slow burn mystery thriller. A different make over for @SasikumarDir with minimal dialogues. Govind Vasanth 's pulsating BGM is a big plus, welcome addition to Tamil cinema
Loved #Asuravadham, a socially relevant mystery thriller. Good show @SasikumarDir #Marudhapandian @dhilipaction (superbly choreographed realistic action, one of the best in recent times ). Best of @srkathiir after #Subramaniapuram. Top class BGM by Govind Vasanth
Kaushik LM: #Asuravadham 1st half - A very non-verbal part for @SasikumarDir with just a few dialogs. His actions and body language do the talking instead. His screen presence is enhanced by the slick filmmaking..
#Asuravadham 1st half - Mean @SasikumarDir marks his man & goes about terrorizing him. It's all about hunting the prey and instilling fear. Waiting to see his back story and his motives!
Superb presentation by Dop @srkathiir for the night scenes and power packed BGM by Govind.
#Asuravadham 2nd half - Has a disturbing flashback in the protagonist's family, which is the basis of his revenge motive. The climax is of course the 'vadham' of the villain. Emotional closure!
For fans of raw action thrillers & a mature audience. @SasikumarDir @Nanditasweta