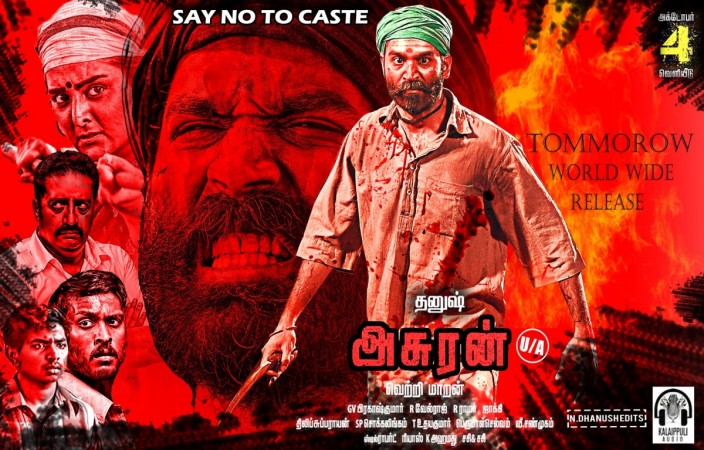 Vetrimaaran and Dhanush, the combo which delivered award-winning films like Aadukalam and Vada Chennai, is united again for Asuran. It is an action thriller, produced by Kalaippuli S Thanu.
Mollywood actress Manju Warrier is making her Tamil debut in Asuran. Prakash Raj, Ammu Abhirami, Balaji Sakthivel, Pasupathy, Aadukalam Naren, Thalaivasai Vijay and others are part of the cast. The movie has GV Prakash Kumar's music, Velraj's cinematography and R Ramar's editing.
Dhanush appears in dual roles of a father and son in Asuran. Manju Warrier will be doing the role of his wife named Pachaiyammal. They belong to the oppressed segment of the society. The story is about the father and the son's fight the opression for their dignity and right to livelihood.
Asuran Story:
It is a gritty and gripping thriller based on the Tamil novel, Vekkai, penned by Poomani. The deals about the class-and-caste divide in the society. Narasimhan (Aadukalam Naren) is a powerful landlord and has set his eyes on the Sivasamy (Dhanush)'s land to build a cement factory. The issue between the families take a violent turn after the former gets the latter's son Murugan (TeeJay Arunasalam) killed for humiliating him.
Peace-loving Sivasamy tries to end the issue, but things go out of control after his hot-headed son Chidambaram (Ken) kills the Narasimhan. Will the father be able to save his family members from the relatives of the deceased? Answer to this form the crux of the story.
Analysis:
The trailer of Asuran has evoked a lot of positive vibes around the film. The success of Dhanush and Vetrimaaran's previous movie has made the viewers pin high hopes on the Tamil flick. Will it live up to the viewers' expectations? Check it out in their words below:
sridevi sreedhar: #Asuran Name one actor who has the guts to play a 50 year old with no prosthetic make up and play dad to a 20 year old when his contemporaries are competing with each other to do the same old mass formula masala films?
And that's why
@dhanushkraja is THE best actor in Tamil cinema! What a unmatchable performance ? #Asuran is riveting, raw, gritty and gripping. A solid film high on both its craft and storytelling
@VetriMaaran @theVcreations
Ramesh Bala: #Asuran [4/5] : A very violent and intense movie..
How the poor and marginalized get exploited for their land..
@dhanushkraja starts by giving space to others.. From pre-interval to climax, he takes complete charge.. His entire acting range is in display.. Brilliant..
#Asuran [4/5] : DOP @VelrajR brings the nativity alive..
@gvprakash songs are apt and BGM is Verithanam..
Dir @VetriMaaran has enhanced the novel #Vekkai and once again proves he and
@dhanushkraja create magic on-screen..
#Asuran [4/5] : @ManjuWarrier4 proves Why she is a seasoned performer..
Ken Karunaas & @Iamteejaymelody are a revelation..
They are the pillars of 1st half..
#Asuran 1st Half: A very dark and intense..
Set in #Kovilpatti karisal bhoomi..
Revenge and survival thriller.. How the rich exploits poor..
@dhanushkraja proves why he is Asuran when it comes to acting..
His two sons and @ManjuWarrier4 r equally good..@gvprakash BGM
Kaushik LM: #Asuran - 3.5/5 36 yr old @dhanushkraja playing Sivasamy (a man in his late 40s), a father of 3 children. Subdued, careful & fiery too
Here, there is absolutely no sign of his acting in mass films such as VIP & Maari! #Vetrimaaran certainly brings out unseen shades from D
#Asuran - 3.5/5. Ken Karunaas & @Iamteejaymelody must be thankful to #Vetrimaaran &
@dhanushkraja for giving the 2 most memorable characters in the film to them. @Ammu_Abhirami sparkles briefly.
Dop @VelrajR shines in the tense night effect scenes; nicely builds up the tension
#Vetrimaaran & #Dhanush succeeded in a big way with their #VadaChennai (A rated). They could've gone ahead with an A rating for #Asuran too.
The basic theme is bloody revenge & there are quite a few gory, unsettling sequences which are shocking. Definitely not meant for kids!
#Asuran 1st half: Hatsoff to
@dhanushkraja for daring to take up this film where until the 'asurathanamana' interval sequence, there is nothing heroic abt his character Sivasamy. The 2nd half promises a lot more; bring it on
PS- the Nellai Tamil slang needs some getting used to!
#Asuran 1st half - Raththam therikka, puzhudhi parakka Nellai boomiyil oru revenge - survival drama
@VetriMaaran - @dhanushkraj do it yet again. Solid so far..
Ken Karunaas and @Iamteejaymelody
are a revelation @gvprakash unleashes all his background scoring talents
Suganth: #Asuran is gripping so far. Not a wasted moment. And the performances and filmmaking are Semma reception at @kasi_theatre from Dhanush fans for the interval block.
Rush Cinemas: #Asuran interval - @dhanushkraja character wise gradually shifted to the top gear at interval block. #ManjuWarrier a great companion on this ecosystem. More to come up with post interval.
Rajasekar: #Asuran - @gvprakash should compose more such quality films. Seriously, we are missing your work these days brother. Continue your heroic films but occasionally compose music for gems like #Asuran, amazing background score
#Asuran - ⭐⭐⭐⭐1/2, Never thought I would say this, @dhanushkraja - @VetriMaaran combo superseded all their previous works. The best film from their combo, bloody brilliant. Vetri speaks the right politics at the right time, Poomani's Vekkai novel stays relevant now. Wow!
#Asuran - the interval action episode featuring @dhanushkraja is verithanam max. He underplayed throughout the first half, good game plan by @VetriMaaran to reveal his ferocious side in the intermission
#Asuran first half - raw, rustic and riveting. @VetriMaaran is easily the most versatile director of our times. Give him any landscape, he will excel in it. North Madras (Vada Chennai), Madurai (Aadukalam) and now Kovilpatti, his films are authentic and flawless
Lohith Briznath: #Asuran Yet another sensational movie by
@VetriMaaran !! Deserves applause!
@dhanushkraja an absolute stellar performance! Just wow on the screen!
@gvprakash Gripping Bgm especially #asuran theme! Movie Takes off brilliantly from the 2nd half! (1)
Sathish Kumar M: #Asuran Review by #CommonManSathish:
Dhanush has given award winning performance as a responsible father of 3 children. His 2 sons have meaty characterisation. Excellent interval scene with massive BGM from @gvprakash
#Kudos to #Dhanush for acting in a story oriented film, which has good importance for all characterisations. @Ammu_Abhirami, #ManjuWarrier & #Pasupathy along with 2 guys who acted as Dhanush sons will impress the audience with their acting skills.
Yet another 'A' Class Film from @dhanushkraja & @VetriMaaran combo.
People who liked this combo earlier films, will love this film too.
Technically brilliant with 2 superb fight scenes, mass BGM and excellent cinematography.
#Asuran First Half -
@dhanushkraja has given award winning performance as a responsible father of 3 children. His 2 sons have meaty characterisation. Excellent interval scene with massive BGM from
@gvprakash Waiting to see the other side of #Dhanush as #Asuran in 2nd half
S Abishek: #Asuran is an experience.
Enga janam paatha valiya, oru heroic angle'la
@VetriMaaran sollirkaar.
@dhanushkraja excels in every possible way. An energetic youth to a father to a killer, the transformation is just seamless.
Actors like #Pasupathy and @prakashraaj will always continue to inspire
#Asuran Such composure from both the stalwarts.
When you were waiting to hoot for the interval block, that's where the story succeeds in creating such moments.
Making a film of this sorts, the lip-sync issue a small let down.
@VetriMaaran 's dedication in creating authenticity for his stories differentiates him.
#Asuran
Prashanth Rangaswamy: #Asuran Interval - Asurathanam by technical department. From landscapes to lighting, so much hard work !! And
@dhanushkraja - valakkam pola verithanam. Interval fight - Guaranteed goosebumps !!
BGM of @gvprakash - applause from audience is the proof of its intensity !!
#Asuran Interval -
@PeterHeinOffl proves why he is one of the top stunt directors in india. Go much realism and nativity in every stunt . Boost the quality of the movie many folds !!
Haricharan Pudipeddi: The only major grouse with #Asuran is the flashback portion in the second half. It didn't quite work as one would've wanted, especially after the terrific first half. But the film still manages to impress, and a lot of credit for that must go to the writing and performances.
It's amazing how @dhanushkraja in #Asuran lets two newbies #Teejay and #KenKarunas steal all the limelight through the first half as he almost sidelines himself but still manages to make a strong impact with a role only he could've played so effectively.
#Asuran is the most violent film from the collaboration of @dhanushkraja and @VetriMaaran . A blood-soaked revenge drama that's backed amazing performances. While Dhanush is at his best as usual, the real stars of the film are #Teejay and the unbelievably good #KenKarunas.
#Asuran at interval. @VetriMaaran and @dhanushkraja give us a blood-soaked tale of revenge that has its heart in the right place. Absolutely riveting so far
Sidhu: #Asuran Interval: Ultimatum. There is a constant feeling of fear, tension and goosebumps that keeps you totally hooked to the proceedings and jolts you at many places. Dhanush, Vetrimaaran, GVP, Velraj, TJ, Ken - all of them firing big. Riveting first half!