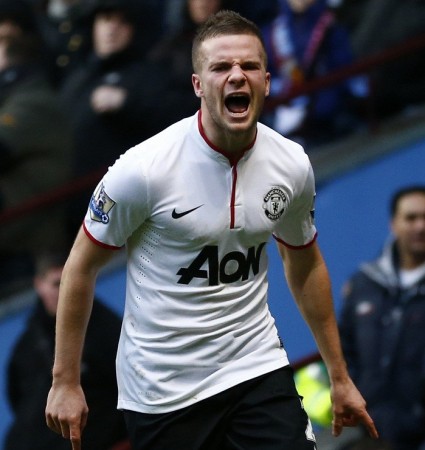 David Moyes, after seeing his Manchester United side cruise to a 3-0 victory over Aston Villa, did not see a lot of difference in terms of performance between Sunday's effort and the previous few, which included the 1-0 losses at home to Everton and Newcastle, instead insisting, the only major variation was goals.
United failed to find the back of the net in two straight home games at Old Trafford, which inevitably led to two disappointing losses; but on Sunday, the reigning English Premier League champions were much more clinical in front of goal, with Danny Welbeck grabbing a brace and Tom Cleverley also getting on the scoresheet in an impressive all-round performance.
"I don't think there was an awful lot of difference except obviously we scored the goals," Moyes told MUTV. "The fact we've not been scoring goals changes the way the games have looked, mainly for the media it changes how it looks.
"But we know we have to play better as well, and we have to play better than we did today [Sunday] again. It continually has to improve and it will improve, and I'll make sure it gets better in the coming month.
"It was a good job done. The players played well. The only thing I'd be critical of is that we didn't score more goals. For the first five or six minutes we didn't quite come out on the front foot, but after that we took control and played well.
"I think we'll play much better than that. I've told the players that that is the least we can do, we've got to keep going and keep winning more games."
For Welbeck and Cleverley it was about redemption after being criticised for their performances this season, with the England striker scoring his first goals since the start of the season, while the midfielder grabbed his first in exactly a year.
"I think it was a good all-round team performance from the boys, everyone came together to play some good football and got the goals," Welbeck said. "They [the goals] were good strikers' finishes, and that's the position I want to be playing in, but I'm happy to play my part anywhere in the team. I'm delighted with the goals today.
"We can't just go away today and sit on the result. I think we've set a platform today, and we want to build on that."
Cleverley, in particular, had copped quite a bit of criticism for his inability to dominate a game in midfield. While there remains room for improvement, the England international at least showed he is capable of moving forward, with the goal, celebrated in robust fashion, being the icing on the cake of a memorable day.
"It plays on your mind. When you're a midfielder you need to score a few goals, we played with more of a three in the midfield today, which gave me a bit more license to get forward, and it was a good finish at the end," Cleverley said. "After not scoring for a year, that came out in my celebration.
"I played quite well today, I kept the ball and kept it moving at a high tempo. I've had a couple of average performances this season, but I want to kick on from here now and so does the team, so hopefully this is the start of a good run."