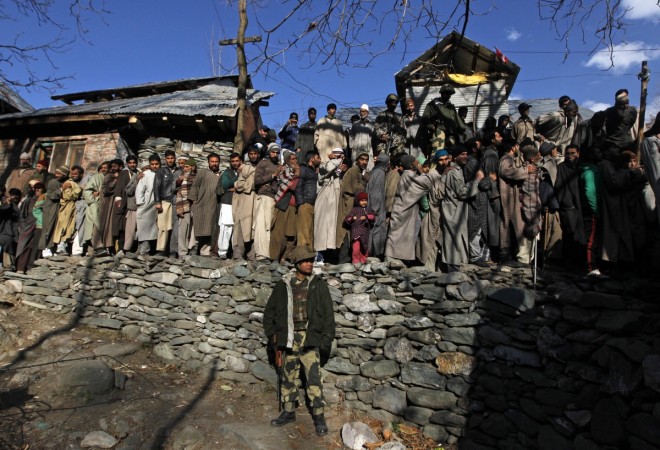 5.35 PM: Over 25 lakh people -- more than 70% of the electorate -- exercised their franchise in the fifth and last round of the assembly election in Jharkhand, officials said.

5.30 PM: The fifth and final phase of assembly elections in Jammu and Kashmir ended peacefully, with over 65% of voters casting their ballot in 20 constituencies, officials said.
2.15 PM: The polling figures in Jharkhand according to EC officials:
Barhait - 52%
Rajmahal - 50%
Godda - 48%
Mahagama - 48%
Borio - 46%
Dumka - 43%
1.45 PM: The turnout in Jharkhand till 1pm:
Pakur - 60.5%
Shikaripara - 60.15%
Sarath - 59.5%
Litipara - 59%
Maheshpur - 58%
Nala - 56%
Jamtara - 57%
Jarmundi - 57%
Jama - 56%
Poreyahat - 56%
1 PM: 34.9% turnout in Jharkhand, 29.8% in Jammu and Kashmir till noon.
11 AM: Nearly 13% voting recorded till 10 am in J&K.
10.15 AM: Suspected militants shoot and kill a Sopore sarpanch at Bomai.
9.45 AM: The polling has been peaceful and brisk in Jammu and Kashmir so far, say officials.
9.30 AM: Jharkhand has recorded 14.27% polling till 9 am, say Election Commission (EC) officials.
9 AM: Voters are coming out in large numbers despite the low temperatures, and one can sense plenty of excitement and enthusiasm among the people, says Deputy Commissioner Sahu.
8.30 AM: Ajit Sahu, Deputy Commissioner of Jammu Police says that adequate security arrangements have been made, and that no violence has been reported so far.
8.15 AM: BJP candidate Ravinder Raina, who was allegedly attacked in Nowshera, has been hospitalised.
8.10 AM: Rana confident that NC will improve its tally in the polls.
8 AM: National Conference's (NC) Devinder Singh Rana casts his vote in Jammu.
7.45 AM: Prime Minister Narendra Modi urges voters to participate in large numbers in today's electoral exercise in Jharkhand and J&K.
Narendra Modi ✔ @narendramodi

I urge all those voting in the 5th & final phase of J&K and Jharkhand Assembly polls to turnout in record numbers & vote.
Polling for the fifth and final phase of elections in Jammu and Kashmir and Jharkhand began on Saturday. The balloting involves 20 assembly constituencies in J&K, and 16 seats in Jharkhand.
The constituencies are spread over Jammu, Kathua and Rajouri districts. Over 18 lakh voters are eligible to decide the political fate of 213 candidates.
Prominent candidates include Sham Lal Sharma (Akhnoor), Raman Bhalla (Gandhinagar), Deputy Chief Minister Tara Chand (Chhamb) and Manohar Lal Sharma (Billawar).
A total of 2,366 polling stations have been set up.
The constituencies going to polls are Bani, Basohli, Billawar, Kathua and Hiranagar in Kathua district, Nagrota, Gandhinagar, Jammu East, Jammu West, Bishnah, R.S. Pura, Suchetgarh, Akhnoor, Chhamb, Marh and Raipur Domana in Jammu district, and Rajouri, Darhal, Kalakote and Nowshera in Rajouri district.
The BJP had won 11 of the 20 seats, the Congress five and the National Conference three. The Peoples Democratic Party had one member.
Polling started at 8 am and will end at 4 pm. Votes will be counted Dec 23.
In the outgoing 87-member assembly, the National Conference had 28 members, the PDP 21, the Congress 17 and the BJP 11 legislators.
In Jharkhand, the fates of 208 candidates including 16 females will be decided by 36,90,069 voters including 19,04,011 males and 17,84,846 females. Polling is taking place at 3773 polling booths.
The voting started at 7 am and will end at 3 pm.
Of the total booths, 833 booths have been declared as very sensitive while another 1,496 have been declared sensitive. Around 22,240 personnel have been deployed in the fifth phase.
Of the 16 seats, seven seats are reserved for Schedule Tribes (ST).
The fate of Chief Minister Hemant Soren, of the Jharkhand Mukti Morcha (JMM), will be decided in this phase. Soren, who is the sitting legislator from Dumka, is contesting from both Dumka and Barhet.
In the 2009 assembly poll, JMM had won nine seats and BJP two seats.
Besides the chief minister, the prominent candidates who are in the fray in this phase include Jharkhand Assembly Speaker Shashank Shekhar Bhokta, cabinet minister Lobin Hembrom, Sita Soren, Louis Marandi, Hemlal Murmu, Simon Marandi and Pradeep Yadav.
(With inputs from IANS)