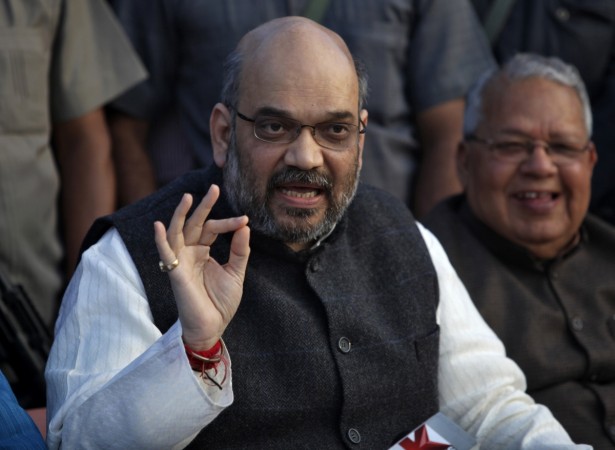 8 PM: BJP wins 37 seats in Jharkhand, 25 of the 87 seats in Jammu and Kashmir; PDP gets 28 seats in J&K.
4 PM: Talking to NDTV, Omar Abdullah said that he is not interested in being the chief minister again. The incumbent J&K CM said that he is willing to support PDP provided Mufti Mohammad Sayeed calls him, adding that NC with 17 MLAs can't be ignored. He however said that his party was unlikely to support BJP, says that there has been no offer from Amit Shah yet.
3.35: Shah says the party is exploring all options in Jammu and Kashmir, favours the formation of a popular government in the state.
3.30 PM: Amit Shah addresses the media where he lauds BJP's performance in the various states of the country, praises Narendra Modi's leadership, and has a go at the Congress.
3.15 PM: BJP chief Amit Shah reaches party headquarters.
2.50 PM: With no party getting a clear majority, Jammu and Kashmir is set for a coalition government.
2.35 PM: PDP must choose between Congress and BJP, says Ghulam Nabi Azad.
2 PM: BJP not keen to tie up with PDP in Jammu and Kashmir, say sources.
1.30 PM: Having been defeated in Sonawar, Omar Abdullah wins from Beerwah.
1.10 PM: BJP sources say that they won't form an alliance government in Jammu and Kashmir.
1 PM: BJP's Hina Bhat loses to PDP's Altaf Bukhari; Sajjad Lone wins Handwara seat.
12.35 PM: Omar Abdullah loses Sonawar seat.
12 PM: BJP wins Billawar in Jammu and Kashmir, Ranchi in Jharkhand.
11.30 AM: Omar Abdullah (NC) trails in Sonawar; Mufti Mohammad Sayeed (PDP) wins in Anantnag.
11 AM: No possibililty of alliance with PDP, says NC.
10.40 AM: BJP to form government in Jharkhand.
10.30 AM: Congress says that grand alliance with PDP, National Conference (NC) possible in Jammu and Kashmir.
10.25 AM: Home Minister Rajnath Singh says that BJP will form the government in Jharkhand and J&K.
10.20 AM: Congress leading in Sopore, Akhnoor and Kargil in Jammu and Kashmir.
10 AM: Too close to call in Jammu and Kashmir: BJP - 23, PDP - 23.
9.50 AM: Major gains for PDP in J&K, party says open to working with BJP.
9.25 AM: Will form majority government in Jharkhand, says BJP.
9.15 AM: Jharkhand - Arjun Munda of BJP leading in his seat.
9.10 AM: Omar Abdullah leading in both his constituencies Sonwar and Beerwah.
9 AM: Will achieve our mission of 44 plus seats in Jammu and Kashmir, says BJP.
8.45 AM: Jharkhand BJP President Ravindra Kumar Rai says the state wants a stable government and only his party can provide it.
8.30 AM: Vinod Singh of CPI (ML) leading from Bagodhr seat; BJP's Raghuvar Das leading from Jamshedpur, the party also gets a seat in Ranchi.
8:15 AM: BJP candidates take early lead in Ramnagar, Reasi constituencies. Tara Chand of Congress, former Deputy CM, leading from Chamb.
8 AM: Counting of votes begins in Jharkhand, Jammu and Kashmir.
Counting for all the 87 assembly seats in Jammu and Kashmir began on Tuesday.
Under tight security, the counting started in Srinagar, Jammu and other major towns at 8 am.
An Election Commission official told IANS that the counting trends would be available by 10 am and all the results would be out by 4 pm.
A total of 831 candidates contested in Jammu and Kashmir.
Prohibitory orders banning the assembly of five or more people have been imposed around all counting centres.
A total of 48.29 lakh votes are to be counted.
(With inputs from IANS)