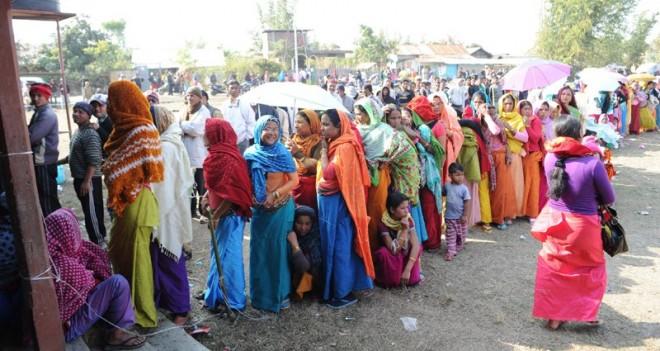 Heavy voter turnout was reported at differing polling stations in Manipur where the assembly elections started at 7 a.m. Saturday.
Long queues were seen in many polling booths and around 38 percent of votes were cast in the first four hours, sources said.
Heavy polling was reported in Thangmeiband constituency in Imphal West district, where former chief minister Radhabinod Koijam is contesting against his rival and Congress candidate Waikhom Jotin Singh.
Speaking to the IBTimes over phone, Thongam Dilip Singh, a voter, who was waiting for his turn at the Thangmeiband Cheirao Ching Khong polling station, said that he reached the polling station at 8.30 a.m. and had been standing on the queue for over an hour.
Heavy polling was reported in Kumbi constituency in Bishnupur district.
Another voter, N Shyamjoy Singh, who cast his vote at Awang Khunou School in Kumbi around noon, said: "Due to slight fog early in the morning, electors didn't turn up in large numbers. However, after 10 a.m., there was marked increase in the number of voters ".
Heavy polling was also reported from the hill district of Senapati.