Violence is not new to Manipur but the scenario in the last few weeks leading up to the upcoming state assembly elections has sent a new wave of fear among the people.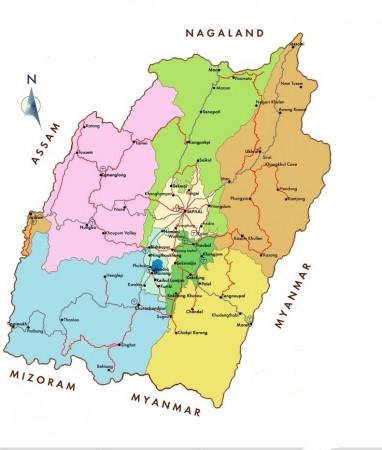 Various Militant groups from the state have been creating havoc in the state by threatening the public not to vote for Okram Ibobi Singh's Congress government. Several bomb blasts have taken place in the capital city Imphal, killing two civilians and injuring many. And this has disturbed the daily lives of its citizens.
LC Santosh, President of Democratic Students' Alliance of Manipur (DESAM), said, "People are scared to go out at night because of recent bomb blast incidents. Two blasts took place last night (Wednesday) at Kakwa Bazaar, Singjamei, injuring a woman, and it has created panic among the public."
"After hearing news of blasts in and around Imphal city, people are scared to go especially to the city. I have even stopped going to my district headquarters Thoubal (Constituency of CM Ibobi), as blast can happen anytime, anywhere," said Ph. Chandrajini Devi, a 64-year-old school teacher.
Besides the threats of attacks from the militants, the presence of heavily Indian army has created a sense of insecurity among the public.
"Violence is like a daily routine in Manipur but the situation has worsened because of elections. I am not going to involve in political activities but watch it closely. Going out at night is a big problem because of frisking by police. If more than four people go in a four wheeler, police will simply arrest," said Th. Inaoba, a 26-year-old businessman.
"It is better not to go out when dark falls in Senapati town because underground personnel are very active and people fear being kidnapped or beaten up by them. Moreover, Indian army personnel is scattered all over the town, so it's not safe to go around," a 30-year-old man said over phone requesting anonymity.
Coordinating Committee (CorCom), a coalition of seven valley-based underground outfits namely UNLF, the RPF, the KCP, the PREPAK, the PREPAK(Pro), the KYKL and the UPPK, has boycotted Congress Party in the state, terming Ibobi's government as anti-people. They have also claimed responsibility for the recent attacks.
The situation in the hill districts of the state is equally bad with United Naga Council (UNC) supporting the Naga People's Front (NPF) party, which extended its wings to the state last year. Kidnapping and harassment of civilians by militants from the hills also have been reported.
The interference of the militant outfits is likely to affect the turn out of the people in this elections. It will not only affect the prospect of some parties but also disrupt the democratic process.