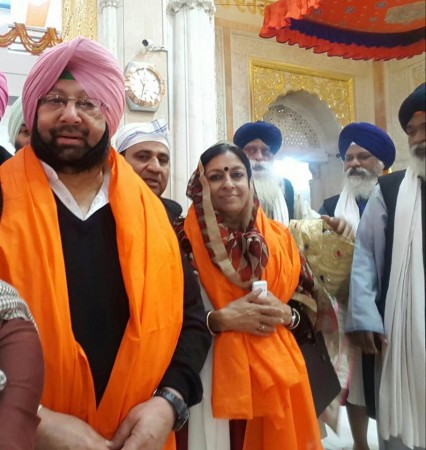 The results for the Assembly elections in five states – Uttar Pradesh, Uttarakhand, Punjab, Goa and Manipur – were declared on Saturday (March 11). The BJP won in Uttar Pradesh (UP) and Uttarakhand, while the Congress has won in Punjab. The party also put up an impressive performance in Manipur with a neck and neck fight with the Congress.
A total of 690 constituencies in five states went to polls between February 4 and March 8. International Business Times, India, takes a look at the candidates who won in 10 key constituencies across all five states:
Sardhana (UP)
2012 winner: Sangeet Singh Som (BJP)
2017 winner: Sangeet Singh Som (BJP)
Sardhana is one of the seven constituencies in the Meerut district of Uttar Pradesh. The constituency was an important one because its sitting MLA – BJP's Sangeet Singh Som – is an accused in the Muzaffarnagar communal riots that took place in August-September 2013 claiming the lives of over 60 people and displacing several thousands.
The Jats and Thakurs (to which community Som belongs) were accused for the riots and this is also the reason why the Samajwadi party did not form an alliance with the Rastriya Lok Dal (RLD), the party of the son of the late Jat leader and former Prime Minister Chaudhary Charan Singh. The party feared that an alliance with the RLD would alienate the Muslim community, which forms a major part of the state's population.
However, Som has again won from the Sardhana constituency in this election putting to rest all speculation that his alleged involvement in the riots could affect the number of votes he gets in the assembly polls.
Allahabad West (UP)
2012 winner: Pooja Pal (Bahujan Samaj Party)
2017 winner: Siddharth Nath Singh (BJP)
The Allahabad West constituency saw BSP's Pooja Pal, who was contesting for the third time, take on SP's 29-year-old Richa Singh, a student-leader-turned-politician and BJP's Siddharth Nath Singh, maternal grandson of Lal Bahadur Shastri and the national secretary of the party.
Pal entered politics after the murder of her husband Raju Pal, who was also an MLA from this constituency. She won in 2012 as the only BSP candidate from Allahabad district). However, she lost her seat to Siddharth Nath Singh this time.
BJP was expected to win the elections in UP this year and it clearly has with over 310 seats in the Assembly.
Raebareli (UP)
2012 winner: Akhilesh Kumar Singh (Peace Party)
2017 winner: Aditi Singh (Congress)
Raebareli was an important constituency for the Congress and it has yet again won here. Aditi Singh, daughter of five-time MLA from the seat Akhilesh Kumar Singh, won the election on Congress' ticket. Akhilesh had previously contested on the ticket of the Peace Party and not the Congress.
This year's election also saw Congress President Sonia Gandhi's daughter Priyanka Gandhi Vadra campaigning in the constituency since the former could not do the same due to health concerns.
Singh won against BSP's Shahbaz Khan, BJP's Anita Srivastava and RLD's Bharati Pandey.
Amritsar East (Punjab)
2012 winner: Navjot Kaur Sidhu (BJP)
2017 winner: Navjot Singh Sidhu (Congress)
The ruling Shiromani Akali Dal (SAD) has a stronghold in Amritsar East in Punjab. The consituency was an important one since cricketer-turned politician Navjot Singh Sidhu, who left the BJP and joined Congress a few days ahead of the polls, contested from this constituency. Sidhu has won the election from this constituency after his wife, Navjot Kaur Sidhu, had won in the previous election.
Sidhu's wife had resigned from the constituency after the couple quit the BJP. The cricketer-turned politician, who has represented Amritsar in Parliament several times, won against BJP's Rajesh Kumar Honey and the Aam Aadmi Party's (AAP) Sarabjit Singh Dhanjal.
Jalalabad (Punjab)
2012 winner: Sukhbir Singh Badal (Shiromani Akali Dal)
2017 winner: Sukhbir Singh Badal (Shiromani Akali Dal)
Jalalabad, located near the Pakistan border, was a significant constituency since Punjab's Deputy Chief Minister Sukhbir Singh Badal of SAD was contesting against AAP's Bhagwant Mann and Congress' Ravneet Singh Bittu, grandson of deceased CM Beant Singh.
Both Mann and Bittu are members of parliament. Badal has been severely criticised from both Mann and Bittu on several issues including lawlessness, corruption, drugs and unemployment. Despite the Congress sweeping the Punjab elections this year, Badal has still managed to win the Jalalabad constituency.
Lambi (Punjab)
2012 winner: Parkash Singh Badal (Shiromani Akali Dal)
2017 winner: Parkash Singh Badal (Shiromani Akali Dal)
Punjab CM Parkash Singh Badal of the SAD contesting against former CM Captain Amarinder Singh of Congress made this constituency a significant one. Singh also contested from Patiala where he won. However, Badal managed to retain his constituency by winning here in Lambi.
Ahead of the polls, Singh had said that he would overthrow Badal in lambi and teach him a lesson for the "crimes" they have committed and also threatened to throw him in jail. He also accused the Badals for not protecting Punjab's religious fabricHowever, he failed to win the seat in Lambi.
Badal has been representing Lambi since 1997.
Thoubal (Manipur)
2012 winner: Okram Ibobi Singh (Congress)
2017 winner: Okram Ibobi Singh (Congress)
Thoubal was a constituency to watch out for since anti-AFSPA activist Irom Sharmila decided to contest against incumbent chief minister, Okram Ibobi Singh. Sharmila quit her 16-year-long fast and decided to join politics to remove AFSPA from the state.
Sharmila launched her own party People's Resurgence and Justice Party and contested this year's election. However, she lost the elections having received only over 90 votes. She also quit politics immediately saying that the people didn't support her.
Singh, meanwhile, retained his seat from the constituency by winning the assembly polls this year.
Khangabok (Manipur)
2012 winner: Okram Landhoni Devi (Congress)
2017 winner: Surjakurnar Okram (Congress)
Khangabok was a key constituency since Surjakurnar Okram, the son of Congress' Okram Ibobi Singh, contested from this seat and won just like his father won in the Thoubal constituency. Surjakurnar was fielded from the Khangabok local Congress after nobody wished to contest the election from this seat.
Surjakurnar's mother Okram Landhoni Devi had won the assembly polls in 2012 and is currently representing this constituency. The Congress has won in the state but has failed to reach the halfway mark of 31 seats. The BJP also put up an impressive performance and, for the first time, made a mark in Manipur elections.
Kiccha and Haridwar Rural (Uttarakhand)
2012 winner: Rajesh Shukla (BJP) in Kiccha & Swami Yateeshawaranand (BJP) in Haridwar Rural
2017 winner: Rajesh Shukla (BJP) in Kiccha & Swami Yateeshawaranand (BJP) in Haridwar Rural
Both seats were significant in the Uttarakhand elections because former Chief Minister Harish Rawat wa contesting from both. However, he lost in both constituencies yet again besides the overall loss of the Congress in the polls led him to resign from his post on Saturday.
Rawat was contesting against BJP's Rajesh Shukla in Kichcha and Swami Yateeshawaranand in Haridwar Rural. Muslim votes are important in both these constituencies. One of the reasons behind Rawat and the Congress losing the elections could be the deadly floods in 2013 during which it was seen that the state government failed to fulfill its responsibilities. Development remained an important concern four years after the floods.
Mandrem (Goa)
2012 winner: Laxmikant Parsekar (BJP)
2017 winner: Dayanand Raghunath Sopte (Congress)
Mandrem was a key constituency because Goa's CM Laxmikant Parsekar was contesting the elections from this constituency. Parsekar was the face of the BJP after Parrikar left the CM's job to serve as the nation's defence minister under the Modi government.
Parsekar has consistently won this seat since 2002, but failed to win this time. He lost to Congress' Dayanand Raghunath Sopte even though the exit polls predicted that the BJP would come back to power.