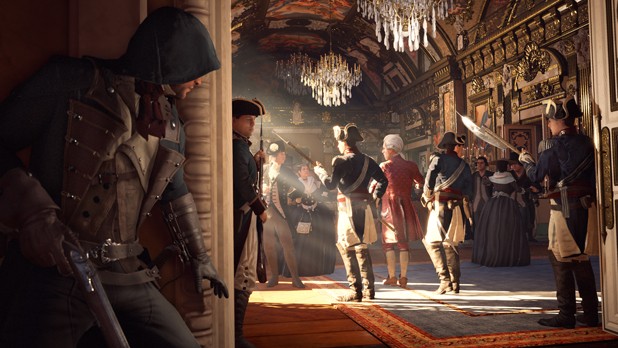 Assassin's Creed Unity had to take in a lot of criticism after one of its executives said it has to work more to churn out female assassins in the upcoming game.
But, a new female assassin was discovered in the latest video that was posted by IGN. A female character was visible at 7:24 minutes in the video. HNGN argues that this could be the female character in the game.
This gains importance in light of how Ubisoft had to face the ire of fans after its executive's comments. Apart from the comment on the female character, he also said that in order to create a male assassin, animators had to create more than 8,000 animations.
The executive who made the comment was Alex Amanico, who is the creative director of the team. This came under a lot of criticism not only from fans but also from its former employees like Jonathan Cooper, who tweeted, saying creating such a character would be one or two day's work.
Ubisoft issued a statement after these criticisms. It defended saying that the game was focused on the story of its lead character, Arno. However, it also added that the franchise has showcased different characters like Aveline, Connor, Adewale and Altair. But it added that it will be looking "forward to introducing to some of the strong female characters in Assassin's Creed Unity."
Pre-order Bonus Detailed
Each retailer selling out Assassin's Creed Unity will have a unique pre-order bonus. However, all the copies will come with a common code for a real-world spin-to-win sweepstakes game that will take place every day. The sweepstakes will have prizes like exotic trips, game content, apparels and home entertainment systems. Every pre-ordered copy will have in-game mission called "The Chemical Revolution."
Apart from this, players selecting from various retailers will get additional in-game items like the ones below:
Amazon – Pioneer Axe, "a battleaxe like no other."
GameStop – Razorhead Spear, "no armour is safe."
Walmart – Maple Hunting Rifle, "they'll never see it coming."
Best Buy – Under/Over Pistol, "shoot twice, ask questions later."
Also, the Assassin's Creed Unity Collector Edition will feature the contents like Arno figurine, art book, a music box and more.
Check this page for pre-ordering.
New Experience Trailer
Ubisoft has released a new trailer that showcases the game's Anvil engine and its gameplay. The trailer is narrated by Alex Amancio.
Amancio explains how the new Anvil engine was instrumental in helping the weather in the game, its lighting, AI and many more.
(YouTube Courtesy: Ubisoft)