Ubisoft Montreal has unveiled the final contours of its newest addition – Assassin's Creed Unity to the popular and successful Assassin's Creed series. Ubisoft shared more information on the game at the recently concluded E3 2014 in Los Angeles, California. This action-adventure title meant for next-gen consoles has disappointed some for its non-inclusion of female characters.
New Character and Setting
Assassin's Creed Unity is a departure from the ships, pirates and the sea-side battles of Assassin's Creed 4: Black Flag. The game introduces players to a new protagonist, Arno Dorian, a French assassin. He rises from ranks and is on the quest to redemption. The game is set in the 18th century France where players will have to fight the dark forces manipulating the French Revolution which is bloody and chaotic. The game takes players to Paris on the eve of the Revolution that inspired the world.
Bigger and Denser Game
Unity promises to be bigger than its predecessors. The city of Paris will be denser and the interiors and exteriors from bedrooms and attics to catacombs that run beneath the city to the rural areas on the city's outer limits make the game bigger. Unity will allow players to explore seamlessly where they will be able to jump from one rooftop location to the other and also check some of grand standing Parisian architecture of the time to its artistic glory. The game reportedly runs with not a single loading screen.
Features Executions
The videos showcased at the E3 and before featured public executions. One of the videos showed how the Assassin attacked the royalist guards after a public execution. The game will be littered with such executions featuring the dreaded and the famed Guillotine.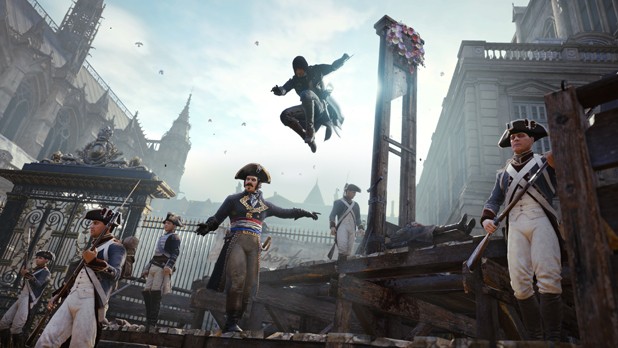 Crowds have their Own Intelligence
In Unity, the crowds will have their own systematic intelligence. If an Assassin is fighting with the guards, he might be interrupted by the crowd brandishing their weapons and making the best use of it against the guards. The Assassin's in the game are viewed as liberators.
Rooftop Navigation
Unity offers players not only a better descent to ground but has added new features to its navigation through rooftops. Not only can players see the unique skyline of the city, the game has added new 'high ground' feature that allows players to seamlessly and quickly see what gameplay opportunities await them. The buildings are designed at a 1:1 scale and up to 5,000 NPCs on screen possible.
Improves Assassin's Creed Formula
Unity will feature many changes in the formula of Assassins' Creed. Ubisoft said that it has done some changes in its "key pillars," rebuilding the game's combat and navigation systems from the ground making use of new technology.
The game allows players to completely customize its protagonist, Arno. It will include customization of weapons, equipment, outfits and specialized skills.
In the previous Assassin's Creed games, players have to follow a person through huge stretches in missions that were mostly mundane, slow and painful reported IGN. But in Unity, this changes as players need not follow a certain character to see where he is headed. Players will be able to intercept couriers or a person saved in a side-mission might have information. This will give more freedom to the missions.
Unity has streamlined its ability to climb down from a high structure with a new method for downward-parkour – 'controlled descent.' Now players can just jump down quickly and gracefully. This jump does not require a hay stack to be parked there, as required in previous title.
The game has a known stealth mode focusing on more of the silent combat style and making assassin's more deadly.
Revolutionizes Open-World
The game is more enormous than its predecessors and its details of the city are meticulous. Players will get the opportunity for parkour at almost every corner, said Toms guide.
The city has got bigger with huge number of commoners, guards and criminals. The scene of guillotine saw nearly thousands of characters witnessing it and everyone had a unique behavior than the other. It was observed that while some crowds involved in harassing the guards, some were scared and others cheered.
The combat is improved with expanded skill sets. These include leg sweeps, shoves, head-butts and more. If a player forces an enemy into a corner pushing him to a wall, it will result in a different animation than the one when killed by stabbing on the street.
The main character will be able to explore more expansively the interiors of some of the most famous buildings in the city of Paris. This will help players to find alternative routes and helping them during stealth mode.
Co-Op Multiplayer Missions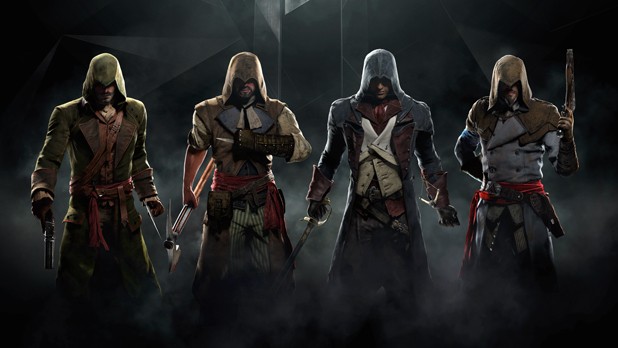 Ubisoft has unveiled a four-player co-op mode where the protagonist will be able to form Assassin's Brotherhood that will help him to carry out assassination against targets using a combination of distraction and combat. This feature has been introduced for the first time in Assassin's Creed game.
This feature allows players to call in for help from friends who will be able to join the game at the click of a button.
Players will be able to enter taverns, which will act as social hubs. It will allow players to check if any of their friends are also playing the game.
Players can also play this mission solo.
(YouTube Courtesy: AssassinsCreed)
No Competitive Multiplayer
Ubisoft is dropping competitive multiplayer as it is siding with the co-operative play in Unity. The studio is however allowing even solo mission in co-op and the mode is optional too. However, many fans and observers have registered shock on the absence of competitive multiplayer, since these modes were impressively made staying true to the series. However, it has been argued that returning features from past games could lead to stagnation.
No Female Characters
The game will reportedly not have any female playable characters since it would have doubled the work for the developers, delaying the game further.
"It's double the animations, it's double the voices, all that stuff and double the visual assets. Especially because we have customisable assassins. It was really a lot of extra production work," said Alex Amancio, creative director told Polygon. But Jonathan Cooper former Assassin's Creed 3 animation director posted on Twitter saying that it will not take more than two days to come up with it.
"I think what you want to do is just replace a handful of animations. Key animations. We target all the male animations onto the female character and just give her own unique walks, runs, anything that can give character," said Cooper to Polygon. But he also added that this can be achieved by quality of the animation must be scarified.
However, it has not ruled out adding female playable characters as DLCs later sometime.
Fans have filed a petition on Change.org asking for the lack of female characters, varied ethnicity in Unity. This petition has already attracted 4,826 supporters.
More Details
Unity is already available for pre-ordering and following are the bonus players will receive:
Access for single-player mission with 30 minutes of content.
The Chemical Revolution mission - that will feature Father of Modern Chemistry, Antoine Lavoisier. Players will have to help him escape his captors and recover this formula for poison bomb.
Take part in Guillotine Spin to Win Game – Prizes include exotic trips, games and digital content, apparel and gear, entertainment systems, and more.
Ubisoft will also be releasing Assassin's Creed Unity Collector's Edition that will include:
Figure of Arno poised atop a gargoyle.
Music box that plays a remixed version of the Unity theme.
Official soundtrack
Art book
Collector's game box
Two in-game missions
Apart from this, it has partnered with McFarlane Toys to release Arno's new signature weapon - Assassin's Creed Unity Phantom Blade which features a functional hidden blade, retractable crossbow arms and a soft firing dart costing $59.99.
Assassin's Creed Unity will be releasing on 28 October for PC, PlayStation 4 and Xbox One.
(YouTube Courtesy: AssassinsCreed)
(YouTube Courtesy: AssassinsCreed)
(YouTube Courtesy: AssassinsCreed)