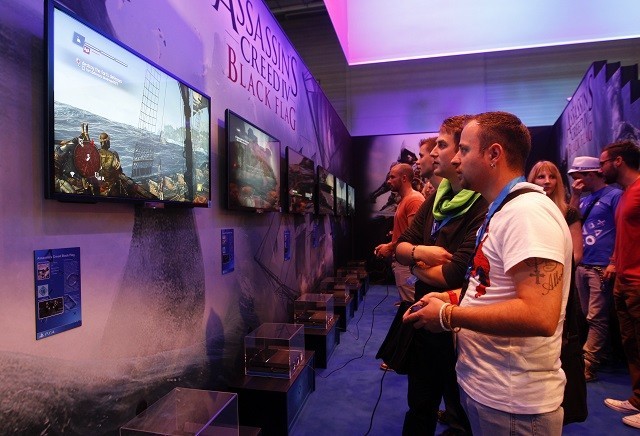 Ubisoft, one of the leading video game developers, known for its Assassin's Creed 4: Black Flag, is reported to launch the mobile version of the game on 5 December.
Tipped as Assassin's Creed Pirates, the game is based on the original Black Flag version. It is said to be launched on Android and iOS platforms for $4.99.
The game enables the user to play "brutal naval combat" and explore the Caribbean sea and islands. As in Black Flag, players are in a quest for hidden treasures but instead of focussing on Edward Kenway, they would follow pirate Alonzo Batilla.
The players can recruit and upgrade crew members, outfit pirate ships and fight against enemy ships in real-time naval combat.
The game also includes classic conflict between the Assassins and the Templars along with the appearance of some famous pirates such as Blackbeard and Bellamy, reported Polygon.
Assassin's Creed Pirates video can be viewed below:
[Video Courtesy: AssassinsCreed/Youtube]
Apart from Assassin's Creed Pirates, Gameloft's Assassin's Creed is available in the Android market.
The app can be downloaded from here.
In related news, it has been noted that PC optimisation is a vital area for Ubisoft. Sylvain Trottier, associate producer in Ubisoft, mentioned on the Ubisoft blog that they had a full team assigned separately for building the PC version of Assassin's Creed 4: Black Flag.
"That's why Ubisoft had a team dedicated solely to building the PC version of Assassin's Creed 4: Black Flag, working on everything from the UI to the controls to wide range of settings encountered in PC gaming. It's absolutely not true that we don't care about PC optimization," said Trottier. "If we didn't care about PC optimization, then we would not have such a big team dedicated just to the PC version in Kiev."
It has also been mentioned that the team started with PC for the game's optimisation because the engineers were most comfortable with PCs. He also added that since the next-generation consoles are similar to PCs, "any learnings from PC optimization can be readily applied to the PlayStation 4 and Xbox One."