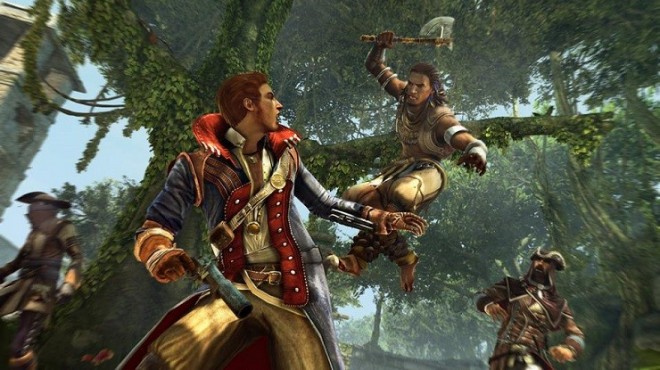 Ubisoft's Assassin's Creed, the action-adventure video game franchise has been one of the publisher's most successful franchises the company has worked on. Assassin's Creed has till now sold 73 million units of the game.
Ubisoft released the list of its best selling franchises on its Facts and Figures page on the official website. Below is the complete list of sales figures of the company's best selling franchises:
Assassin's Creed: 73 million
Just Dance: 48 million
Tom Clancy's Splinter Cell: 30 million
Tom Clancy's Rainbow Six: 26 million
Tom Clancy's Ghost Recon: 25 million
Petz: 24 million
Rayman: 25 million
Imagine: 21 million
Prince of Persia: 20 million
Driver: 19 million
Far Cry: 18 million
Rayman Raving Rabbids: 14 million
The Settlers: 10 million
The Experience: 9 million
Anno: 5 million
Your Shape: 3 million
Apart from the sales, the page also reveals that Ubisoft Studios has the second biggest in-house development staff in the world and it has 29 studios in 19 countries. It has 9,200 Ubisoft team members around the world of which, 7,800 are dedicated for production. Ubisoft's sales for year 2012-13 were €1.256 billion.
The company released Assassin's Creed 4: Black Flag on 29 October 2013. This video game bought open-world map and a new protagonist, Edward Kenway. It was set during the time of the Golden Age of Piracy in the Caribbean Islands.
On 5 December 2013, Ubisift released a mobile game for iOS and Android devices where players follow Captain Alonzo Batilla. Batilla is neither an Assassin nor Templar and concentrates more on the real-time battles between ships.
A new game from Ubisoft was also revealed, titled, Assassin's Creed Unity which is set during the times of the French Revolution and will reportedly feature an Assassin named Arno. This game will be released in the Q4 2014 for PC, PlayStation 4 and Xbox One.
Image credit: Facebook
(Ed: AJ)