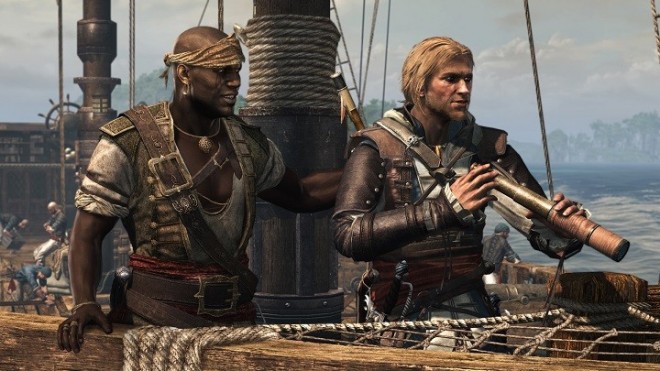 Ubisoft, the developer behind action-adventure title Assassin's Creed 4: Black Flag, has now released a list of collectibles for the game.
The open-world game allows players to travel anywhere in the game's map and each such event is marked by the collection of collectibles, which will add to the gameplay. Following are a list of collectibles in the game posted in the Ubisoft blog.
Animus Fragment - Players have to collect these Animus Fragments, ranging to 200, around the world for the completion of all the Abstergo Challenges that will result in the unlocking of the Deceased Crew Cheat.
Letter in a Bottle - These are found predominantly on beaches and rocky shores. These bottles will contain a letter of people who have treaded that area, providing us a glimpse of the past times.
Manuscript - This will always be protected by guards and will be placed in a restricted zone, offering insights on historical events and people. This is the "cornerstone of the Assassin's Creed franchise."
Treasure Map - These will be on the corpses of dead sailors whom the player encounters on the Caribbean beaches. The map will be indicative of hidden treasures with co-ordinates. The X mark on the map is where the treasures are hidden. Treasures will contain either money or plans that will be able to unlock upgrades for the player's ship, Jackdaw.
Shanty - Finding these will enable the player's crew to sing a new song but they have to be chased as they will be there only for a short while, before disappearing.
Templar Key - These keys can be unlocked only after the completion of certain sets of missions. There are just five keys that will be available in the game but it takes time to find one. The Assassin Bureau leaders give out tasks, and atleast four of them must be completed to lead players to the key. When players collect all five, they can gain access to the Templar Armor that increases resistance to enemy attacks.
Mayan Stone - These stones can be collected by solving puzzles and players have to climb the 16 Mayan Stelae, where they have to interact with it and switch to the Eagle Vision. In the Eagle Vision, a player has to manipulate patterns of the ground that will be matching three specific objects in the particular environment. Solving this puzzle will grant players the location of the Mayan Stone. Collection of all the stones helps players in gaining access to Mayan Outfit which will deflect metal projectiles when attacked.
Present Day Collectibles - This is a task of modern day spying where players will have to find QR Codes in the building, unlocking cryptic notes. Players can also hack into the co-workers computers to access information on Abstergo. This will enable players to gain insight into the relationship between Abstergo and Templars. Easter eggs are a likely find, if players are able to identify it.