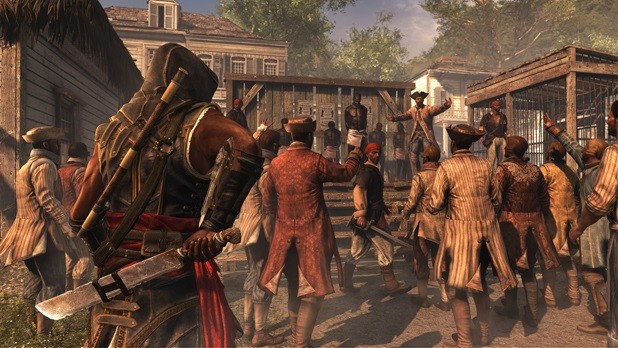 Assassin's Creed 4: Black Flag players will get to play the role of liberator of slaves in its newest downloadable content (DLC) Freedom Cry that will be released on 17 December for PC, PlayStation 3, PlayStation 4, Xbox 360 and Xbox One.
The DLC is set 15 years after the journeys of Edward Kenway - the main protagonist of Assassin's Creed 4: Black Flag. Players will control Adewale, who was previously a slave and but now on a mission to execute his vengeance upon those who erred against him.
He is the first playable black male assassin in the popular Assassin's Creed franchise. He was also a quartermaster for Kenway and is now a trained assassin. He is all ready to take on the mighty Haitian slave trade. Adewale gained his mastery in using a machete in one hand and blunderbuss in the other.
Missions include players attacking a ship belonging to the Templars, fights involving cannon blasts and taking over the ship and clearing all the items on it. He will have to liberate the slaves of Port-au-Prince.
The game showcases slavery existing in the Caribbean Islands. The streets have human auctions taking place, with the slaves being beaten down. Torture is evident as are straps and hot irons. Slaves who try to escape are killed straightaway.
Forbes reports the new DLC has one of the darkest scenes in the video game, when a salve ship sinks, with many still chained and below the deck.
The Freedom Cry DLC will cost $9.99 but it is also a part of Season Pass that costs $19.99. However, this DLC will not b available for Wii U.
(YouTube Courtesy: GamesHQMedia)