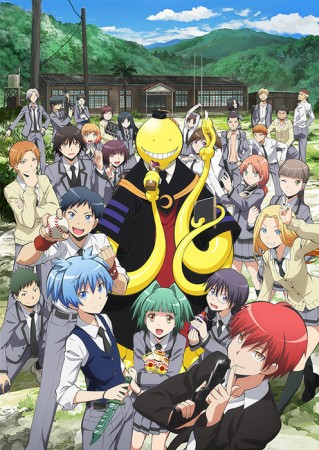 "Assassination Classroom" manga creator Yusei Matsui has released chapter 175 of the series titled "Lost Time" and the next episode of "Assassination Classroom" will be most probably based on the new chapter.
In the previous chapter 174, Kotaro Yanagisawa attacked Koro-sensei – the alien octopus teacher. However, when Koro's pupil, Kaede Kayano, tried to help his master, she was destroyed by Yanagisawa and was left with his body impaled in the middle.
Devastated by Kayano's death, Koro unleashed his fury that changed his octopus body from yellow to black. Yanagi taunted him by saying that Koro's true colour is black and he was hiding it to deceive his students including Kayano.
Unable to take it anymore, Koro fought aggressively with Yanagi that exposed Koro's other colours namely blue and red. Unable to face his fury, Yanagi eventually disintegrated into nothingness.
In "Lost Time," Koro made Kayano come back to life using his skills of putting back every cell into his student's body. However, Koro was enthralled when he realised that his skill works and couldn't stop boasting off that how he practiced the skill very carefully to make sure he can use it at the correct time.
After the release of the latest chapter, fans are speculating that second season of "Assassination Classroom" will end soon. Since the anime episodes are also based on manga storyline, there is a possibility that only few episodes are left in the anime series too.
Fans are also speculating the possibility of a Season 3, where the further story of students and Koro will be explored. However, there has been no information regarding Season 3 yet, either from Matsui or anime producers.
In other news, the second live-action movie of "Assassination Classroom" titled "Assassination Classroom: Graduation" is scheduled to release in cinemas on March 25, 2016. The movie will act as the sequel of the first movie, "Assassination Classroom: Koro-sensei's Great Besiegement!!"
"Assassination Classroom" Season 2 Episode 7 will most probably be aired on Feb. 18.