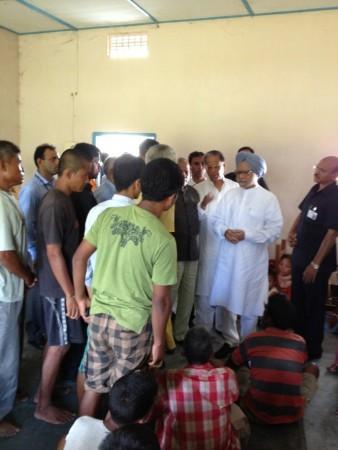 Prime Minister Manmoahn Singh reached out to the victims of Assam riots in relief camps on Saturday and assured that the Centre will do everything possible to help the victims.
"I have come here to share your sorrow and pain. This is a time for healing," said Singh, while meeting the victims of Assam ethnic riots that lasted for a week. "My government will do everything possible to help the victims. We are here to talk to the people directly".
The Prime Minister reached the riot-hit Kokrajhar on an IAF chopper after his helicopter returned to the Lokopriyo Bordoloi International Airport in Ghuwati, just minutes after its take off. Initially, the airport officials informed that the PM's chopper was called back due to bad weather but reports suggested that the chopper encountered a technical problem.
The Prime Minister reached the relief camps in Kokrajhar by an IAF aircraft. The Prime Minister's office is expected to give further details about the aircraft problem.
While talking to the reporters at Kokrajhar relief camps, the PM said, "This is no time for recriminations, we need to first help the people to rehabilitate and bring peace"
Kokrajhar district was the epicentre of Assam riots, which killed over 50 people besides leaving about 2 lakh homeless. Since last week, villagers have taken shelter at the relief camps fearing a meltdown.
Besides state forces, army and Centre parliamentary forces have also been deployed across the affected villages on stand-by to prevent any further rioting incidents. No fresh rioting incidents were reported since Thursday. As the state gradually getting back to its normalcy, the officials have eased the indefinite curfew in the morning but the night curfew still remains.