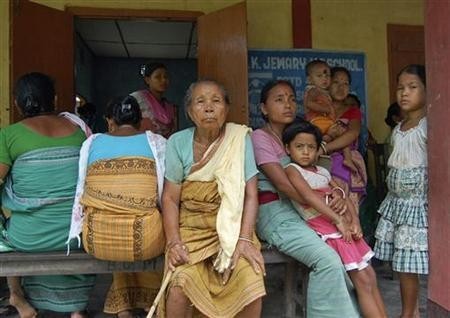 Following a series of unrelenting community clashes and violence, the Assam police has issued shoot-at-sight order and even deployed para regiment forces on standby across the riot-hit Kokrajhar district.
In one of the worst riots of Assam, at least 21 people have been reportedly killed after police recovered four other dead bodies from Kokrajhar. Several homes were burnt into ashes since last Friday.
The situation on the ground zero continues to be tensed said chief minister Tarun Gogoi. An indefinite curfew has been clamped again on Kokrajhar district, restricting gathering of the people.
The attacks were first reported on Friday night, after a group from Jayapur village, largely occupied by Muslims, allegedly killed four youth belonging to Bodo tribal community. The incident led to an all-out community war, followed by a series of clashes between the two groups.
Assuming that the situation was under the control, the officials lifted the curfew 24 hours after it was imposed on Sunday. However, violence in troubled- Kokrajhar came back on Monday and also spreading the agitation to the neighbouring villages.
According to the media reports, fresh incidents of violence were reported from Fakiragram, Serfanguri, Narabari, Gossaigaon, Dotoma, Mokrajan and Tulsibari, the surrounding districts of Kokrajhar, wherein group of rioters reportedly attempted to set forbidden homes on fire.
However, sources revealed that army's intervened and chased off the miscreants.
Following the fresh reports of riots, the military forces conducted a flag march. The locals of the affected villages are vacating their homes and moving into relief camps fearing the violence. Sources said that till now at least 50, 000 people have taken refuge in such camps.
The ongoing agitation has also hit the railway service of northeast bound trains.