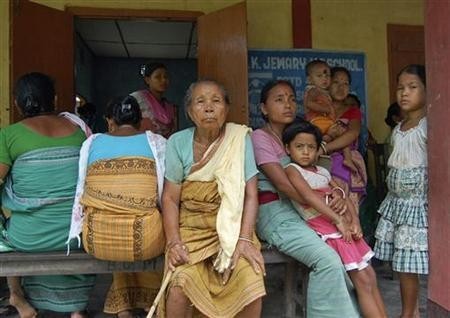 Police have relaxed curfew in Rangya sub-division on Friday as the riot-hit Assam remained calm on the day with no incidents of violence being reported.
The police had earlier taken 100 people into custody for questioning in connection with the incident which took place on Wednesday and Thursday.
Assam Inspector General of Police (Law & Order) L R Bishnoi told PTI, "Curfew has been relaxed in Rangiya from 9 AM to 3 PM. The situation is under control."
He however maintained that the night security remains vigil in these areas and the security has been tightened in the riot-hit and problem-prone areas of Kokrajhar, Chirang, Dhubri and Baksa districts in Assam.
On Thursday, there were reports of violence in some parts of Baska which forced the police forces to fire in the air in order to disperse the crowd.
Assam has been tensed since July after the clash between the Bodos and the illegal immigrants which resulted in killing of nearly 80 people and displaced about 4, 00000 people of the State.
Though the state had fallen back to normalcy, the report of stray violent incidents across the state on Thursday evoked further tension tension.
Meanwhile, the people of the North East continue to flee cities like Bangalore, Pune, Hyderabad and Chennai to their home towns following rumours that they would be attacked.
The centre and state governments have assured protection to the people from the region and appealed not to pay heed to rumours.