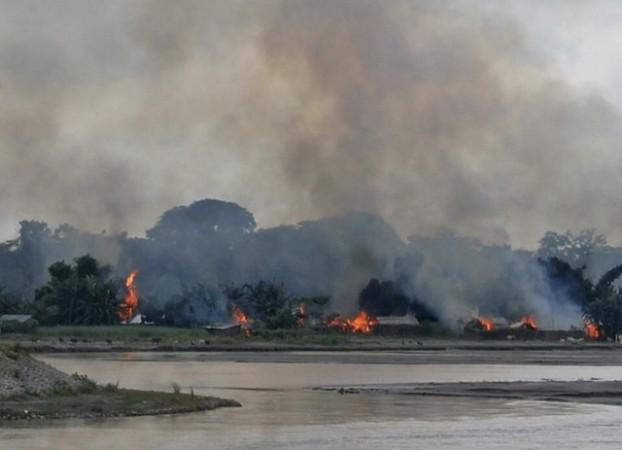 Assam Police on Thursday arrested a legislature of the Bodoland Peoples Front (BPF) for his possible involvement in latest ethnic clashes in the state.
Pradeep Brahma, an ally of ruling Congress and a representative from Kokrajhar (West) constituency, was arrested at1 am from his residence following a series of complaints against him. As many as seven complaints were filed against him in connection with last month's Assam riots, which claimed about 80 lives, besides rendering 400,000 others homeless.
Following his arrest, Brahma's supporters staged a rail-roko protest at Kokrajhar and Bongaigaon railway stations, leading to a disruption in railway services.
State forces have imposed curfew on Kokrajhar district fearing fresh violent incidents following the arrest and Wednesday's clash in neighbouring Dhubri district.
A fresh incident of violence was reported from Dhubri district, where at least two people were killed, and nine others were missing. Police said that the violence broke out when unidentified attackers opened fire on a group of workers at Bangaldoba.
Fresh violence in Dhubri came against the backdrop of an improving situation in the violence-torn Assam state. About 200,000 people are said to have left the refugee camps. However, the night curfew continued to be in place.
Last month, the indigenous Bodo tribes and Muslim communities were engaged in a spate of rioting incidents. The aftermath of the Assam violence was felt in different parts of the country as well. In a move to exploit the sentiments of communities, rumour mongers circulated morphed clips and threatening SMSs to instigate violence against North-East people in the country.
It's said that similar clips were circulated a day before August 11 violence at Mumbai's Azad Maidan, where two people were killed and 55 others, who were participating in the rally against Muslim killings in Assam, were injured.
In wake of the recent violence across the country, thousands of Indians from the North-East region fled major cities like Bangalore and Pune, fearing possible reprisal attacks against their communities.