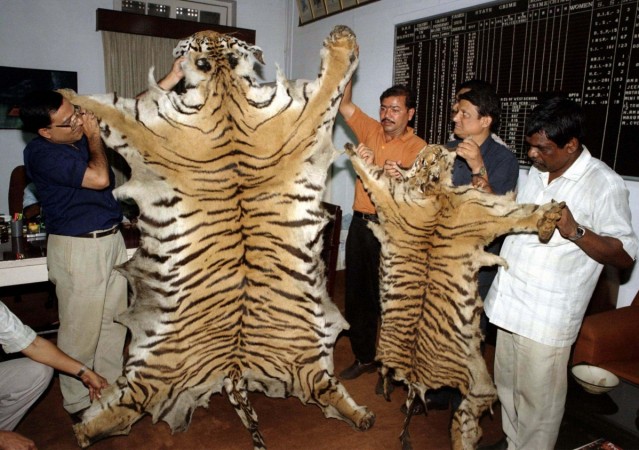 Mahat Chandra Talukdar, the divisional forest officer (DFO) of Assam's Dhemaji district, was reportedly arrested by the Anti-Corruption Branch of the Assam Police after he was caught red-handed accepting a bribe of Rs. 30,000.
The police also recovered animal parts like tiger skin, deer skin and elephant tusks along with Rs. 3 crore in cash and one kg of gold jewellery during a raid at his official residence in Dhemaji and another house in Guwahati.
The Daily Pioneer quoted ACB officials as saying that Talukdar was first arrested for accepting a bribe from a businessman and then later the officials conducted a raid at his two residences in Dhemaji and Guwahati from where they recovered Rs. 62,25,420 and Rs. 4,27,000, respectively.
Officials could not open his secret lockers at the Guwahati residence but recovered animal parts like tiger skin, deer skin, elephant tusks and other parts along with Rs. 2 crore cash and one kg of gold jewellery.
"... We have produced him in the court of the Chief Judicial Magistrate (CJM) on Tuesday and sought him in three days' remand," the daily quoted a senior ACB official as saying.
Besides registering a case against the DFO for taking bribe, ACB officials will most probably also charge him for owning assets that did not tally with his known sources of income.
The Indian Express reported that cases have been registered against Talukdar under Sections 7, 13(1) and 13(2) of the Prevention of Corruption Act.
He had also set up at least 11 check gates in the forest to collect cash from trucks and other vehicles for legally or illegally carrying forest produce. After Assam Chief Minister Sarbananda Sonowal announced the closure of these gates, Talukdar collected money by "seizing" the vehicles and confining them in the divisional forest office.
CM Sonowal was quoted by the Daily Pioneer as saying that his government is committed to follow corruption-free practices and that action will be taken against DFO Talukdar.